Stocks poised for higher open after sell-off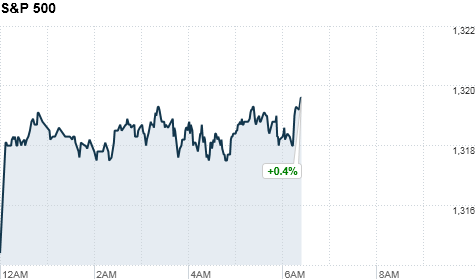 NEW YORK (CNNMoney) -- U.S. stocks were set to open higher Wednesday, following a sharp sell-off in the previous session and ahead of a key report on existing home sales.
Dow Jones industrial average (INDU), S&P 500 (SPX) and Nasdaq (COMP) futures were higher ahead of the opening bell. Futures measure current index values against perceived future performance.
David Wyss, chief economist for Standard & Poor's, said that markets were making a partial recovery after having "overreacted" yesterday.
Investors are "having a second thought because things are not as dire as they thought they were. They're realizing that Libya just doesn't produce that much oil and not that much comes to the U.S. anyway."
Libya's escalating political crisis sparked a sharp sell-off in U.S. stocks Tuesday, with the three major indexes posting their biggest one-day drops of the year and as oil prices continued to skyrocket.
The Dow Jones industrial average (INDU) sank 178 points, or 1.4% -- its worst decline since November. Wal-Mart (WMT, Fortune 500) was one of the biggest losers on the Dow, with shares falling 3% after the retailer reported disappointing U.S. sales figures.
But Wyss said the violence surrounding the regime-threatening protests in Libya has "very little direct impact" to Wall Street. It poses more of an interdirect threat, he said, through the international markets.
Economy: The spotlight returns to real estate Wednesday morning, as the National Association of Realtors releases existing home sales numbers for January at 10 a.m. ET.
Existing home sales are expected to slip slightly, to 5.23 million units on an annualized basis.
On Tuesday, the latest S&P/Case-Shiller home price index report indicated that national home prices fell 4.1% during the last three months of 2010, compared with 12 months earlier.
Companies: Before the opening bell, Home Depot (HD, Fortune 500) rival Lowe's (LOW, Fortune 500) reported quarterly earnings that beat analysts' expectations. Shares were up 3% in premarket trading.
Luxury homebuilder Toll Brothers (TOL) also surprised investors, reporting quarterly earnings of 2 cents per share. Analysts had forecasted a loss of 7 cents per share. Shares were up 3% in premarket trading.
Shares of Saks (SKS) were up 5% in premarket trading, after the retail department store said it earned 14 cents per share in the most recent quarter -- up from a loss of 3 cents a year ago.
Shares of Hewlett-Packard (HPQ, Fortune 500) were down 10% in premarket trading, after the computer company issued an outlook and quarterly sales figures that disappointed investors.
World markets: European stocks were mixed in midday trading. Britain's FTSE 100 fell 0.4%, the DAX in Germany slid 0.2% and France's CAC 40 edged higher by 0.2%.
Asian markets ended the session mixed. The Hang Seng in Hong Kong declined 0.4% and Japan's Nikkei fell 0.8%, while the Shanghai Composite ticked up 0.2%.
Currencies and commodities: The dollar dropped versus the euro and the British pound, but was flat versus the Japanese yen.
"The week's two main themes, political unrest in Northern Africa and the Middle East and rate hike speculation [from the European Central Bank] have joined forces and is serving to undermine the greenback," said a report from Brown Brothers Harriman.
Oil for April delivery gained 55 cents to $95.97 a barrel.
Gold futures for April delivery rose $3.40 to $1,404.50 an ounce.
Bonds: The price on the benchmark 10-year U.S. Treasury dipped slightly, with the yield pushing up to 3.48% from Tuesday yield of 3.46%.