All Providence teachers receive dismissal notices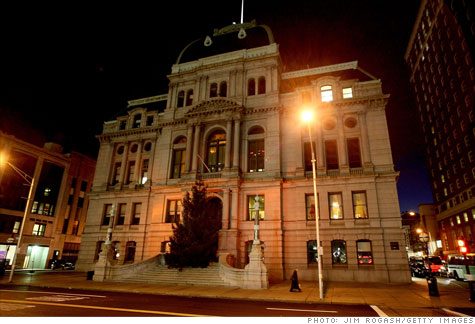 NEW YORK (CNNMoney) -- The Providence Public School Department sent dismissal notices Tuesday to every one of its 1,926 teachers, warning them they could lose their jobs at the end of this school year.
Not all teachers in Rhode Island's capital city will be let go. But the warning was necessary because of the dire fiscal straits that both Providence and its school system are in.
The school district is facing a nearly $40 million shortfall for the coming academic year.
The city's financial condition is even worse. Providence, which faced a $57 million deficit a year ago, is preparing a budget that will contain major cuts to education, officials said. The city, which has been hit hard by the Great Recession, spends half its budget on schools.
Rhode Island law requires that teachers be notified about potential changes to their employment status by March 1. But because the extent of the funding cuts are still unknown, the school system sent warnings to every teacher to give itself "the maximum flexibility to consider every cost-saving option," Superintendent Tom Brady wrote in a letter to educators.
Mayor Angel Taveras, a product of Providence public schools who promised to improve them in his inaugural address last month, plans to submit his budget at the beginning of April. The new mayor should have a better handle on the city's fiscal condition once a task force he appointed to review Providence's finances issues its report within the next two weeks.
"We know there will be fewer teachers and fewer schools open," said Melissa Withers, Taveras' spokeswoman.
In the past, the school district has issued layoff notices to some teachers, but never dismissal notices and never to the entire staff. School officials opted to dismiss teachers this year so the district would not be bound by state law that requires recalls be based on seniority.
"It gives us more flexibility to recall teachers based on student need," said Christina O'Reilly, a spokeswoman for the district.
The teachers' union said it was "appalled" at the city's decision to "terminate all Providence public school teachers." The union will explore every option to make sure educators' rights are protected.
"This unprecedented action sacrifices the best interest of Providence students and teachers in the name of flexibility," said Steve Smith, president of the Providence Teachers Union. "This is a slap in the face to teachers who have supported the district in nationally recognized labor-management collaboration initiatives which have occurred in our city over the past two years."
The city and the union will soon start negotiations on the teachers' contracts, which expire June 30. City and school district officials stressed that Tuesday's move was not related to the contract expiring.