How to spot a lousy investment
(MONEY Magazine) -- There's a terrible investment being sold right now -- a real dog. Let's not get into names.
As an editor once warned me, no matter how critical you are, you'll end up generating new customers. That's because crummy investments often have eye-popping short-term numbers, and once you mention a 25% gain or a 7% yield, some people stop reading. Besides, Wall Street is always peddling bad stuff.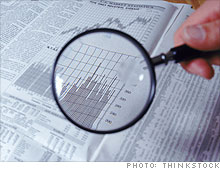 So instead I'm going to give you five signs of a stinker, whether the market is up, down, or sideways. Spot one, and you should be skeptical. Spot two or more, and you should run away.
1. It's supposed to be the teeniest bit riskier than the competition, but much more profitable.
Investment banks and pension funds were suckers for this line when they bought toxic mortgages that carried AAA credit ratings. But individuals get pulled in too.
Giant flag: pitches that compare the investment to something really safe.
Back in the early 2000s, for example, Heartland Short-Duration High-Yield Municipal took a 44% one-day loss. A Heartland shareholder report had a "risk/return spectrum" graphic showing it was just one step more volatile than a money market.
2. Its label suggests outperformance.
Case in point: Investors have twice been hosed by funds that offered a "plus." In the late 1980s, plus funds bought government bonds and then tried to generate extra income by writing options; instead they ate up principal.
Two decades later came Reserve Yield Plus, which owned Lehman debt, and Schwab YieldPlus, which pumped up its income with mortgage exposure. Both stumbled in the financial crisis, and Schwab recently agreed to pay $119 million to settle charges that it misled investors about its fund's risks.
Not every "plus" is a problem child -- Royce Value Plus is on the MONEY 70 recommended list, and it's a conventional stock fund aimed at aggressive investors. But in general "plus" describes a hoped-for result, not a dependable trait in the real world, where minuses abound.
3. It's a really interesting investment, and for a select few.
Beware of investments that make you feel like an insider -- hedge funds come to mind -- or smarter than the other guy for having even the foggiest idea how they work.
"People want more from an investment than just return; they want status," warns Larry Swedroe of Buckingham Asset Management. And clever salespeople play to that desire.
4. It invests in exotic stuff but sells on Main Street.
One way to goose returns is to buy obscure or less liquid securities. In a bear market, though, they can be tough to sell for anything other than a rock-bottom price, as potential buyers disappear. (Liquidity crunches were part of the Schwab and Heartland messes.)
If a fund owns a lot of unusual fare, watch out -- especially if it doesn't hold a big cash cushion.
5. It's costly.
The latest and greatest very often charges more than standard stock or bond funds (which average 1.4% and 1% of assets, respectively). That's a good reason for Wall Street to gin up ideas, but it diminishes any advantage you might get.
Hot performance comes and goes; expenses are always.