Short sellers flee the market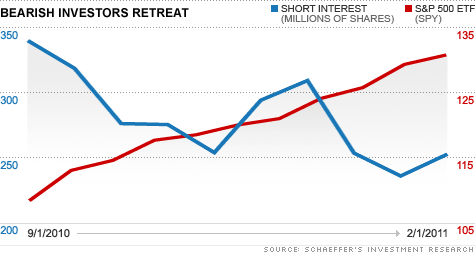 NEW YORK (CNNMoney) -- It's been a frustrating six months for Wall Street's short sellers.
Despite the recent market declines, the S&P 500 has climbed more than 25% since mid-August to multi-year highs while short interest in stocks is at its lowest levels since late 2007.
But investors who use short selling as an investment strategy aren't wavering, saying a combination of the turmoil in North Africa and the Middle East, rising oil prices and high stock valuations make this an attractive market to bet against.
Simply put, shorting is an investment tactic that bets on prices falling. It traditionally carries higher risk and is not typically used by average retail investors.
Bearish investors said the lack of shorts in the market may be a sign that the market has peaked.
"When everyone is bullish, that's when you want to be shorting this market," said Uri Landesman, president of Platinum Partners, a multi-strategy hedge fund that shorts both specific companies and the broader market.
Short sellers admit rising corporate earnings and a generally-improving economy have been strong catalysts for the market's quick recovery from the March 2009 lows.
But the concern is that stocks have risen too far too fast. And that could mean a sharp pullback is on the very near horizon. Stocks have already priced in expectations for record profits this year, according to S&P Index Services.
Several notable short sellers have already struggled in this market. Whitney Tilson, co-manager of the hedge fund T2 Partners, announced in mid-December that his fund was taking a short position in online movie rental company Netflix (NFLX), which at that time was trading at nearly 70 times earnings.
Netflix shares climbed an additional 25% as the company continued to report strong earnings and an increasing subscriber count. Tilson later admitted in a second letter to investors that his short position had been wrong.
"Many things will have to go very right for the company to justify its [then] market valuation, but we no longer think it's wise to bet against Netflix," he wrote at the time.
Short sellers say that while valuations may be good for shorting, there have been other catalysts that have affected stock prices, such as the recent uptick in M&A activity and an increased interest in stocks by retail investors.
"The analysis can be very right, but the timing can be very wrong," said Ryan Bend, a portfolio manager with the Federated Prudent Bear Fund. "It can be very frustrating."
Bend and other investors said they've been increasing their net short positions in several sectors as the market has climbed in recent weeks. Bend said he's net short the S&P 500 SPYR (SPY), an exchange-traded fund that tracks the S&P 500.
Bend and other bearish investors said however that the spreading turmoil in Libya and $100-a-barrel oil prices which sent stocks down roughly 300 points in the past two days could be just enough to end this six-month rally.
"The market has done an impressive brushing off the concerns ... but it's only getting worse," Landesman said.