Old Rip Van Winkle bourbon: Creating the ultimate cult brand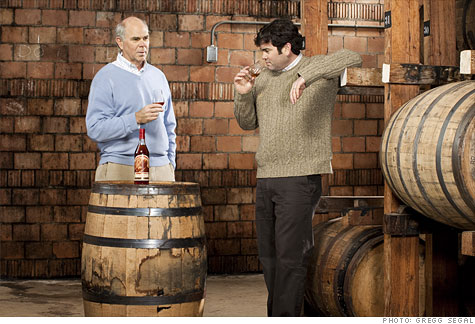 FORTUNE -- Bourbon runs deep in American lore. David Crockett swigged it. Harry Truman liked a glass when playing poker. Screen star Tallulah Bankhead was famed for being able to polish off a bottle of the stuff in under 30 minutes.
Not all bourbons, however, are alike. Aged bourbon, it turns out, attracts an almost cultlike following. This brew has been carefully distilled and then sits in oak barrels for years -- sometimes for nearly a quarter of a century -- until ready to drink. When that much time and care go into making a product, it means it is expensive and hard to find. And that's just the way Julian Van Winkle III, 61, the president of a small, premium Kentucky bourbon company, likes it. He calls it a strategy of scarcity.
Old Rip Van Winkle Distillery, with 2010 sales of $2 million, markets only about 7,000 cases a year -- puny by liquor industry standards. Van Winkle not only is able to sell out his inventory -- he says he could unload two or three times what he makes -- but can also raise prices just about every year. That allows his two-person firm (his son Preston, 33, is marketing manager) to stay profitable while competing with giants such as Maker's Mark and Wild Turkey.
Van Winkle's approach is a good game plan for any small business that goes head to head with big competitors. Companies often get into trouble when they try to grow too big too fast. Van Winkle believes that if you make a great product and keep production low, you'll never get stuck with big inventories when the economy turns tough. "That's been the downfall of a lot of bourbon producers," he says. "They just make too much of it. It loses all cachet and is not as special."
To see whether Van Winkle's scarcity model worked, I set out to buy a bottle of his 15-year-old Pappy Van Winkle bourbon ($70 a fifth) -- my favorite of the different ages he produces. The first few liquor stores in New York City I called were out of stock. One store was hoarding a bottle but was asking $150 -- more than twice the retail price. (I like Pappy's but not that much.) In all, I struck out at 20 stores. Finally a friendly saleswoman at Acker Merrall & Condit on West 72nd Street said that she'd put me on a waiting list and would call me as soon as the next shipment came in. "That's how most of our customers get their supply," she added. "It's gone as soon as it arrives." Van Winkle says with some pleasure that most liquor stores don't even bother to put his bourbon on display -- why waste time and shelf space for something that's going to disappear? -- but keep it under the counter for their best customers.
Kaihan Krippendorff, founder of Outthinker, a New York City consulting firm, and author of Hide a Dagger Behind a Smile, a book about using Chinese strategies to seize a competitive edge, says that companies often create exclusive, top-end products to shed an aura on their other lines. For example: Johnnie Walker Blue Label Scotch, which at $230 a bottle lends prestige to its less expensive brands. In the auto industry, the parallel is VW's owning Bentley, and Fiat's owning Ferrari. But what about a small company like Van Winkle that sells only premium brands? "The challenge," says Krippendorff, "is that enough people have to know about your high-end product." And that's tough on a limited marketing budget.
Van Winkle does it by an unstinting focus on quality, a lot of viral marketing, and a little bit of luck. Pappy Van Winkle, Julian's grandfather, owned the Sitzel-Weller distillery, which in its heyday during the 1950s and 1960s was producing 800,000 cases a year of bourbon, including the popular Old Fitzgerald brand. Pappy, whose face today adorns the label of the firm's bourbon, was the very essence of a Kentucky gentleman: white suit, walking stick, and, of course, a cigar and glass of bourbon in hand. Pappy's mantra, which you can imagine him saying in a deep Southern drawl, was: "We make a fine bourbon, at a profit if we can, at a loss if we must, but always a fine bourbon."
Living up to Pappy's standards isn't easy. By federal law, bourbon must be at least 51% corn and be made in the U.S. Contrary to popular belief, the spirits do not need to be made in Bourbon County, Ky., to be called bourbon. In fact, Van Winkle, based in Louisville, outsources the making and bottling of his family recipe to the Buffalo Trace Distillery in Frankfort, Ky., which is not in Bourbon County. Most bourbons use 70% to 80% corn and a mixture of rye, malted barley, and yeast. (By comparison, single malt Scotch whisky uses only malted barley.)
Pappy's secret recipe substitutes wheat for rye. Says Van Winkle: "Think of the taste as the difference between rye bread and wheat bread. A bourbon made with rye is kind of spicy, has a bit of a bite in it, and is a little rougher on your tongue. Wheat is sweeter, softer, smoother." There's more. Pappy's wheat recipe ages very gracefully in oak barrels, not picking up as much, as they call it in the trade, "wood and char," which can give it too much of an oaky and burned taste.
Aging a bourbon for up to 23 years is a tricky business. Says Van Winkle: "If you have five barrels of whiskey in a warehouse, all might be a little different. We take samples over the years. We try to hit a certain flavor profile for each age. If a barrel tastes different from our standard, we eliminate it or let it sit -- and maybe it will get better."
One reason that aged bourbon is so expensive is that it disappears over time. A barrel holds 30 cases of bourbon, but after 23 years it will yield only about seven due to evaporation.
Running the business wasn't always this smooth. When Van Winkle inherited the company in 1981, bourbon was falling out of favor with American drinkers -- vodka and rum became all the rage. (American drinking tastes seem to be cyclical.) The family distillery had been sold, and basically all he was left with was a small distribution company and the Van Winkle name. But he saw an opportunity. Practically no one was selling aged bourbon. He started buying up old inventory from struggling distilleries of his family's bourbon as well as other brands that had been sitting in barrels for years. "I just liked aged bourbon," says Van Winkle, looking back. "It has more character than younger whiskies." In the mid-1990s he launched the Pappy Van Winkle label and started selling aged whiskey. In 1998 his 20-year-old won a "99" rating, the highest ever from the prestigious Beverage Tasting Institute in Chicago. The judges said it "finishes with a seemingly endless and evolving cascade that introduces notes of cigar box, sweet tobacco, leather, and dried tangerine." After that, Van Winkle says, "the phone started ringing off the hook and we were short -- didn't have nearly enough of it."
That old bourbon sitting around in warehouses wasn't going to last forever, so in 2002, Van Winkle contracted with Buffalo Trace to make more Pappy's, but still in limited quantities.
To get the word out about his whiskey, Van Winkle places his brew in high-end restaurants like Eleven Madison Park and Bar Americain in Manhattan, where 23-year-old Pappy goes for $50 a glass. Buffalo Trace's national sales force distributes it to selected liquor stores in 35 states. Van Winkle travels around the country to host dinners in top restaurants and displays at four whiskey shows a year. "We do all this," says Van Winkle, "just to keep our name out there."
And it seems to work. That waiting list for Pappy's 15-year-old? I'm still waiting for the call.