Who gets rich off of $100 oil?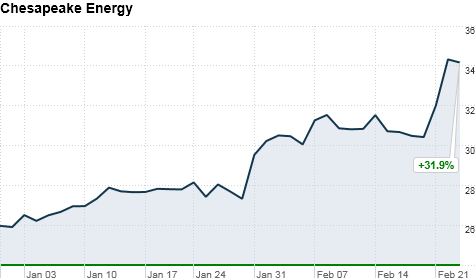 NEW YORK (CNNMoney) -- For consumers, the return of $100-a-barrel oil is nothing but bad news. But investors see an opportunity: They're piling into unconventional energy stocks, betting that high oil prices could translate into big profits for some smaller U.S.-based oil companies.
In fact, companies that specialize in extracting crude from oil shale and oil sands are posting the biggest gains among energy companies this year.
Chesapeake Energy (CHK, Fortune 500) has seen its stock jump 30% this year. Shares of small-cap GeoResources (GEOI) are up nearly 40%. Abraxas Petroleum (AXAS), which pulls oil out of the shale in the Rocky Mountains, has had a 27% runup.
"These [oil shale] companies basically start printing money once oil is above $90 a barrel," said Fadel Gheit, an oil industry analyst with Oppenheimer & Co.
Analysts and investors think these unconventional energy outfits could benefit the most if oil remains in the neighborhood of $100.
North America has massive crude oil reserves locked up in oil shale and oil sands, which are geological formations that contain large amounts of oil that is extremely expensive to extract.
The Bakken oil shale field in North Dakota has an estimated 4.65 billion barrels of crude, according to the U.S. Geological Service. The oil sands in Alberta, Canada make up the world's second-largest amount of proven oil reserves, behind Saudi Arabia.
This oil is more difficult and costly to extract because it isn't in liquid form initially - it's locked up in rocks and sand. And even after drillers get the petroleum out of this solid material, the oil then requires extremely high amounts of refining to make it usable.
When oil went above $100 a barrel for the first time in summer 2008, the economics of pulling oil from the ground changed dramatically, according to analysts. That made oil sands and oil shale economically viable for energy companies, so the industry shifted enormous resources into that technology.
The Bakken oil shale field is now producing around 350,000 barrels a day, up from 93,000 barrels a day only four years ago, said Ron Ness, president of the North Dakota oil council.
The cost to recover this oil was around $90-$95 a barrel three or four years ago. Now it costs about $60-$75 a barrel, thanks to advances in technology and an increase in production.
"Bakken has been a great resource for us, and as the technology has developed, we can now extract for a lot less than we used to," Ness said.
Analysts expect that oil will remain above $70 a barrel for the foreseeable future - about what it costs these companies to produce a barrel of oil. And the recent turmoil in Libya and the Middle East makes drilling for North American oil sands and oil shale even more attractive.
"The economies of scale are just starting to work for the non-conventional oil companies," Gheit added."Lower oil prices favor drilling outside the U.S., and higher oil prices favor drilling inside the U.S."