Oil spikes 9% in a week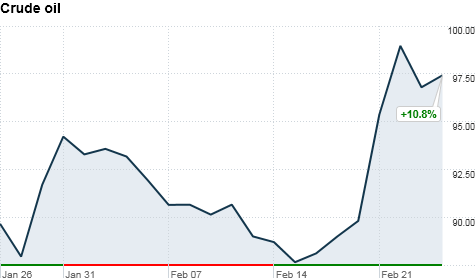 NEW YORK (CNNMoney) -- Oil prices have had a wild ride this week, surging more than 9% since last Friday as investors reacted to the changing political dynamic across North Africa and the Middle East.
The U.S. benchmark oil contract, West Texas Intermediate, for April delivery gained 60 cents to settle at $97.88 a barrel. Prices hit a high above $103 on Thursday, before retreating to close at $97.28 a barrel.
Brent crude, the European standard, added 53 cents to $111.89 a barrel.
Friday's relatively subdued action incomes near the end of a volatile week. On Wednesday, prices jumped above $100 a barrel for the first time since October 2008, as the political revolt in Libya hit the nation's oil exports.
Phil Flynn, senior market analyst at PFG Best, said traders were reassured by a report Thursday that Saudi Arabia was in talks with European refiners about replacing lost production from Libya.
"We had the big guns come out yesterday to calm the market, which they did," said Flynn.
But the market remains wary of the volatile situation in Libya, where opponents of Moammar Gadhafi's decades-old rule have taken control of several major cities outside of the capital, Tripoli.
The International Energy Agency said Thursday that the unrest in Libya has removed an estimated 500,000 to 750,000 barrels per day of crude oil -- or less than 1% of global daily consumption -- from the world market.
While that's a relatively small amount of oil, many investors are concerned that the wave of unrest that has already toppled regimes in Tunisia and Egypt could destabilize key exporting nations in the Middle East.
"I still wouldn't feel comfortable if the situation in Libya were resolved today," said Flynn. "That's because we don't know what we might face on Monday."
Traders are nervously eying other powder keg nations that have been roiled by unrest recently, including Algeria, Yemen and Bahrain.
Flynn said even Saudi Arabia could be shaken by the movement, which has been largely driven by anger over high unemployment in countries that have been ruled by oppressive regimes.
Saudi Arabia currently produces 8.6 million barrels a day, just behind the 10.1 million barrels a day produced in Russia and 9.8 million barrels a day produced in the United States, according to the U.S. Energy Information Service.
By comparison, Libya produced 1.6 million barrels a day last year, making it Africa's third largest exporter. The nation also claims the continent's largest reserves and has a particularly valuable type of light, sweet crude.
Still, there is still the threat that unrest could reach Saudi Arabia, said Flynn. "You can't underestimate that right now."