Trade in your old junk for cash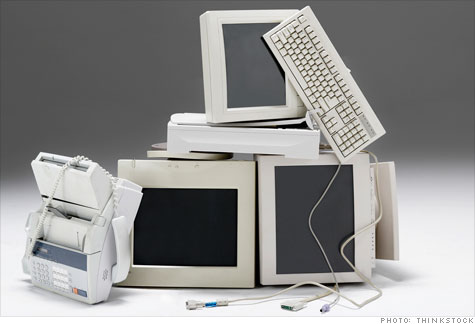 NEW YORK (CNNMoney) -- You could be sitting on a pile of cash.
The old sofa in your living room, the pile of sports equipment in the garage, the outgrown baby gear, the used electronics are all worth cash -- lots of it.
The average household has more than $7,000 worth of unused stuff stuff sitting around, according to research firm NPD Group. And that doesn't include big ticket items like TVs and furniture.
"There are a lot of people who have more things than cash," said Brad Wilson, founder of BradsDeals.com, a website that tracks deals.
So what do you do with all that stuff? Trade it in.
"It goes beyond electronics, there really are a lot more options for trading things in," Wilson said.
For example, national sporting goods chain Play It Again Sports takes sports and fitness equipment in exchange for cash. Music Go Round buys used musical instruments.
Apparel retailer Buffalo Exchange will put a value on used clothing, jewelry, shoes, bags and sunglasses in exchange for cash or store credit.
Babies R Us recently accepted trade-ins on used cribs, car seats, strollers and other gear in exchange for 25% off new baby items.
Sear's trade-in service accepts everything from camera lenses to calculators.
Online services, such as Swap.com, let users trade their old books, movies and games for other used ones at almost no cost and Furnituretrader.com deals exclusively with new and used furniture.
Currently Amazon will take textbooks, DVDs, Blu-rays and video games in exchange for credit, but but the retailer plans to expand trade-in possibilities to include cell phones, other electronics and more, according to Faisal Masud, director for warehouse deals.
"The program is growing very fast and is extremely popular," he said. "Since launching in March 2009, we've had several million units traded."
And as for electronics there are, of course, still plenty of options. In addition to Sears, Target's trade-in service lets shoppers exchange their old cell phones, MP3 players or video games and receive store credit to use toward other Target purchases. For example, a mint condition 8GB iPhone would fetch approximately $61.
CircuitCity and Best Buy have similar programs, and Apple will take your old iPod and give you 10% off a new one.
For an even better deal, Best Buy recently introduced a buy back program. You have to pay for it when you purchase one of their products, but then if you want to upgrade later, the store will buy back your old stuff for up to 50% of the purchase price. That also means you're paying less sales tax on your new purchases.
But if you're going to get the latest gadgets, you might as well recycle the old ones and save some money, too.