Stocks: $102 oil has investors on edge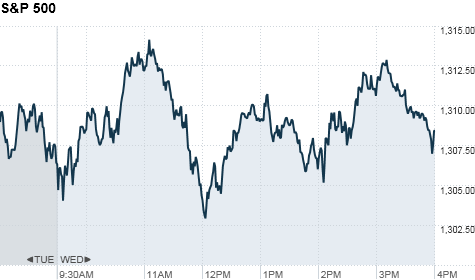 NEW YORK (CNNMoney) -- U.S. stocks ended slightly higher Wednesday, as nervous investors focus on oil prices, which rose above $102 a barrel on renewed concerns about oil and the Libyan conflict.
The Dow Jones industrial average (INDU) rose 9 points, or 0.1%, with Caterpillar (CAT, Fortune 500) and 3M (MMM, Fortune 500) posting the biggest gains.
The S&P 500 (SPX) added 2 points, or 0.2%, and the Nasdaq (COMP) gained 11 points, or 0.4%.
Yahoo (YHOO, Fortune 500) was a big winner on both of those indexes, with the stock popping 3.3% amid reports that the online portal company is in talks to sell its 30% stake in its Yahoo Japan venture.
U.S. stocks sank Tuesday, with all three major indexes falling more than 1%, as oil prices spiked almost 3%.
"We're seeing a bit of a recovery in the market from yesterday, but we're still in a tug of war period," said Karl Mills, president and chief investment officer at Jurika Mills & Keifer. "The swing factor is what's happening with the price of oil."
Oil prices continued to advance Wednesday, rising $2.60, or 2.6%, to settle at $102.23 a barrel, the highest since September 2008.
"The key is to watch how far and how quickly oil prices rise," Mills said. "The economy can handle where oil is now, but nobody sees the geopolitical uncertainties going away, and higher oil prices could curb economic growth here and in Europe."
Gold futures for April delivery also rose, as investors made a play for safety. The yellow metal touched an intraday all-time high of $1,441 an ounce, before easing slightly to settle at a fresh record of $1,437.70 an ounce.
World markets: World markets slumped Wednesday, a day after the big U.S. sell-off, as forces loyal to leader Moammar Gadhafi attacked rebels in eastern Libya.
European stocks posted losses. Britain's FTSE 100 slipped 0.4%, the DAX in Germany lost 0.6% and France's CAC 40 fell 0.8%.
Asian markets ended sharply lower. The Shanghai Composite slid 0.2%, while the Hang Seng in Hong Kong tumbled 1.5% and Japan's Nikkei sank 2.4%.
Economy: ADP released its latest private-sector jobs report, showing a gain of 217,000 jobs for February. Economists had forecast the ADP report to show that private businesses hired 165,000 new workers last month.
Employers announced plans to cut 50,702 jobs in February, a 32% increase over last month, according to Challenger, Gray & Christmas.
In the Federal Reserve's Beige Book report, a reading of the economic situation from the regional Fed banks, the central bank said manufacturers and retailers across all 12 of the Fed's districts are passing on rising commodity prices to consumers, but the economy continues to grow at a moderate pace.
Companies: Shares of Apple (AAPL, Fortune 500) rose 0.8% after the company's CEO Steve Jobs made a surprise appearance on stage in San Francisco to debut the iPad 2, which received a new, thinner design and an updated "A5" dual-core microprocessor.
Currencies and bonds The dollar fell against the euro and the British pound but rose versus the Japanese yen.
The price on the benchmark 10-year U.S. Treasury fell, pushing the yield up to 3.46% from 3.40% late Tuesday.
Are high gas prices forcing you to cutback in other areas? If you've had to scale back other purchases so you can afford to fill your tank, please email your story to Jessica.Dickler@turner.com. For the CNNMoney.com Comment Policy, click here.