Stocks set for weak open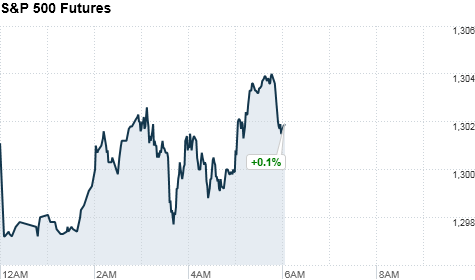 NEW YORK (CNNMoney) -- U.S. stocks were set for a lower open Wednesday, following a selloff on renewed concerns about oil and the Libyan conflict.
Dow Jones industrial average (INDU), S&P 500 (SPX) and Nasdaq (COMP) futures were higher ahead of the opening bell. Futures measure current index values against perceived future performance.
Joel Kruger, an analyst at DailyFX who focuses on European markets, said Wall Street is still dealing with "fear and risk aversion," because of political turmoil in oil-producing nations in North Africa -- particularly Libya -- which "doesn't seem to be going away."
U.S. stocks dropped Tuesday, with all three major indexes down more than 1%, as oil prices spiked to more than $100 a barrel.
The sell-off came as oil prices for April delivery continued to head higher, climbing $2.66 to settle at $99.63 a barrel on Tuesday, amid renewed violence in Libya and tension throughout the Middle East and North Africa.
Doug Godine, managing director in charge of institutional sales and trading for investment banking firm Signal Hill, said that futures were higher earlier in reaction to Tuesday's stock market weakness.
"But my guess is that later today we'll be a little bit in the red," he said, shortly before futures began to slip.
World markets: World markets fell sharply Wednesday, a day after the big U.S. selloff, as forces loyal to leader Moammar Gadhafi attacked rebels in eastern Libya.
European stocks slumped at midsession. Britain's FTSE 100 slipped 0.5%, the DAX in Germany lost 0.7% and France's CAC 40 fell 0.7%.
Asian markets ended sharply lower. The Shanghai Composite slid 0.2%, while the Hang Seng in Hong Kong tumbled 1.5% and Japan's Nikkei sank 2.4%.
Economy: ADP released its latest private-sector jobs report, showing a gain of 217,000 jobs for February.
Economists had forecast the ADP report to show that private businesses hired 165,000 new workers last month, down from 187,000 in January.
Employers announced plans to cut 50,702 jobs in February, a 32% increase over last month, according to Challenger, Gray & Christmas.
A crude oil inventory report will be released at 10:30 a.m. ET, followed by the Fed's Beige Book -- a reading of the economic situation from the regional Fed banks -- at 2 p.m. ET.
Companies: Shares of Apple (AAPL, Fortune 500) were flat Wednesday morning, as investors anticipate the company's iPad 2 announcement at 1 p.m. ET.
Warehouse retailer Costco (COST, Fortune 500) reported second-quarter earnings of $348 million, or 79 cents a share. Revenue jumped 11.3% year-over-year to $20.88 billion, slightly beating expectations. Shares edged lower in premarket trading.
Shares of Yahoo (YHOO, Fortune 500) climbed about 2% before the opening bell, amid reports that the online portal company is in talks to sell its 30% stake in its Yahoo! Japan venture.
Currencies and commodities: The dollar fell against the euro and the British pound, but rose slightly versus the Japanese yen.
Oil for April delivery rose 57 cents to $100.20 a barrel, having reached as high as $100.64 on the reports of violence in Libya.
Gold futures for April delivery touched an intraday record of $1,435.30 an ounce, before before easing to $1,433.10 Wednesday morning. That was $1.60 higher than the record settlement high set Tuesday.
Bonds: The price on the benchmark 10-year U.S. Treasury fell, pushing the yield up to 3.43% from 3.40% late Tuesday.