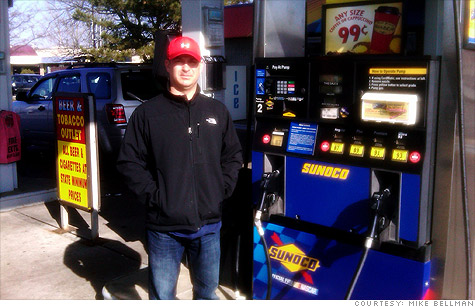 As Americans wince at sharply higher prices, gas station owners like Mike Bellman say consumers shouldn't take it out on them.
NEW YORK (CNNMoney) -- In the past 27 days, Mike Bellman has raised gas prices by a penny a day at his Bellman-Sunoco gas station in Columbus, Ohio. And he's not apologizing for it.
He's selling gas for $3.39 a gallon this week, 25 cents higher than three weeks ago.
"I don't have a choice. I feel for consumers. They don't understand why prices are going up so much," Bellman said.
But Bellman knows why prices are rising, and it isn't because of any shortage of oil in the United States or the world market.
"It's because of speculation about things that could hurt the supply in the future," he said. "These last couple of years, speculators have moved market prices for gas more than they have ever before."
Fred Rozell, director of retail pricing with Oil Price Information Service, agreed.
"Currently, there's a fear premium built into the situation in the Middle East," said Rozell.
But all that doesn't matter to Bellman, or to many of the more than 100,000 independent gas station owners in the country.
Bellman is pointing the finger at gas distributors, who he says have been charging him higher prices lately for their wholesale gas supplies.
"My prices are based on what I pay my gas supplier and what my competition is charging for a gallon," said Bellman.
In the past few weeks those prices have been going "up, up and up," Bellman said.
Slim profits getting slimmer: "To say that I'm gouging by raising my prices is unfair," said Bellman, who sells 2,500 gallons of gas daily at his station.
"My wholesale price for gas changes every day," Bellman said. "I have to keep adjusting my retail price so that I'm making at least some profit."
Contrary to popular belief, Rozell said gasoline isn't the most profitable commodity sold at a gasoline station.
"Gas station owners make more money on the retail merchandise they sell at the gas station convenience stores," he said.
Gas station owners, on average, make a gross profit of 14 cents on a gallon, said Rozell, but that gets whittled down by credit card transaction fees.
Those fees reduce profit per gallon by about 3%, he said.
Those fees take a bigger chunk of the profit as gas prices rise and more consumers decide to use credit instead of cash to ease the hit to their wallet.
Bellman said that every time someone pays with a credit card he's losing 10 cents out of the $3.39 a gallon he's charging.
Don Good owns 24 Good Oil Company gas stations in Indiana, the state with the second-lowest profit margin on a gallon of gas in the nation.
Last week, Good said 13 of his gas stations were selling gas at a loss because he had not raised his prices even though he was paying more to buy gas from his supplier.
"We were losing 20 cents a gallon," Good said. On top of that, like Bellman, credit card fees were stripping out another 4 cents to 5 cents per gallon.
Still, he didn't rush to raise his prices. "In Indiana, no one wants to be the first to raise their prices because the competition for customers is so tough," Good said. "You raise your price first and you lose your customers."
But when someone does pull the trigger, then consumers get whammed with a big jump in prices all at once because everyone else else follows suit, Good said. He finally raised prices by 35 cents over the last week and a half after his competitors made the first move.
Like Bellman, Good said gas station owners are wrongly maligned as gougers.
"Consumers don't understand how the business works," he said.
Surprisingly, he said station owners make more money when gas prices start falling than when they rise. "That's because when wholesale prices are falling, I may not bring down my retail prices for a couple of days so make a better profit," he said.
Still, Good says he feels for consumers. "I hear them outside of my office saying how they are paying an extra $50 on gas to drive to work. 'There goes my vacation,'" he said.
"I feel a lot of empathy for them," he said