Dow jumps 190 on jobs data, lower oil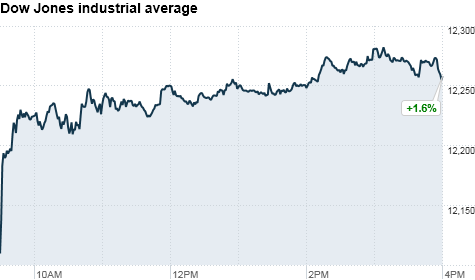 NEW YORK (CNNMoney) -- U.S. stocks posted their best day in three months on Thursday as Wall Street rallied behind a strong unemployment claims report along with a modest drop in energy prices.
At the preliminary close, the Dow Jones industrial average (INDU) rose 191 points, or 1.6%, to 12,258. The gains were the best for the blue-chip indicator in 2011 and the largest since Dec. 1.
The S&P 500 (SPX) added 22.5 points, or 1.7%, to 1331; and Nasdaq (COMP) composite climbed 51 points, or 1.9%, to 2799.
Thursday's rally was fairly broadbased and held steady the entire day. Twenty of the Dow's 30 members advanced more than 1%, while the worst-performing member of the Dow was AT&T (T, Fortune 500), falling a modest 0.1%.
Wall Street's bulls rallied behind a considerably better-than-expected weekly jobless claims report, which showed the number of people who filed for benefits dropping to its lowest level since May 2008, along with a modest cooling in energy prices.
"[The initial jobless claims data] is giving the market a lot of optimism going into tomorrow's non-farm payrolls report," said John Dickson, chief market strategist at D.A. Davidson & Co.
Oil fell 40 cents a barrel on news reports that Libyan leader Moammar Gadhafi mightagree to a peace negotiations mediated by Venezuela's Hugo Chavez.
"This has been a very headline-driven market in recent weeks, the oil market especially," Dickson said.
Economy: The Labor Department reported that initial jobless claims totaled 368,000 in the week ended Feb. 26 -- the lowest weekly figure since May 31, 2008.
Analysts surveyed by Briefing.com had expected the number of people filing for unemployment benefits to rise to 400,000 from the revised tally of 388,000 the previous week.
The report came a day before the big labor report, the monthly employment figures from the government. Economists surveyed by CNNMoney expect that 192,000 jobs were created in February, with the unemployment rate rising to 9.1% from 9% in January.
"The economic data this week has just been exceptional, it's really created an optimistic mood going into Friday's jobs report" said Paul Zemsky, head of asset allocation with ING Investment Management.
The Institute for Supply Management's service industries index was also a positive force for the markets, rising to a stronger-than-expected reading of 59.7 for February. Economists had been looking for a reading of 59. Any reading above 50 signals expansion in the sector.
Companies: Valero Energy (VLO, Fortune 500) was the best-performing stock in the S&P 500 on Thursday, jumping 7.7%, after the oil refining company said it expects to post adjusted earnings between 76 cents and 91 cents a share, well ahead of the 48 cents a share analysts had forecast.
Shares of Big Lots (BIG, Fortune 500) rose 4% after the company reported a 15% increase in earnings to $1.46 a share. Analysts were looking for $1.38 a share, according to Briefing.com.
World markets: European stocks closed broadly higher. Britain's FTSE 100 rose 1.4%, the DAX in Germany ticked up 0.5% and France's CAC 40 added 0.5%.
Asian markets ended mixed. The Shanghai Composite slipped 0.4%, while the Hang Seng in Hong Kong edged higher 0.3% and Japan's Nikkei gained 0.9%.
Currencies and commodities: The dollar rose versus the British pound, and made slight gains against the Japanese yen and the euro.
Oil for April delivery slipped 35 cents to $101.87 a barrel. The commodity had been down as much as 1.4% earlier in the day.
Gold futures for April delivery fell $21.30 to $1,416.40 an ounce. On Wednesday gold hit an intraday all-time high of $1,441 an ounce, before setting a settlement record of $1,437.70.
Bonds: The price on the benchmark 10-year U.S. Treasury fell, pushing the yield up to 3.52% from 3.46% late Wednesday.