Oil eases, but holds above $100 a barrel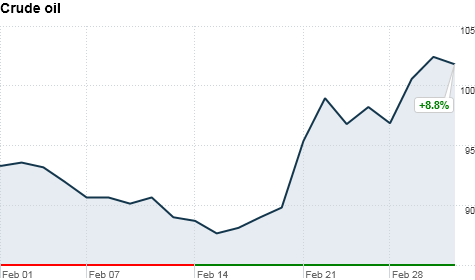 NEW YORK (CNNMoney) -- Oil prices backed off a 2-1/2 year high Thursday, but held firmly above $100 a barrel as escalating violence in Libya continues to fuel concerns about further supply disruptions.
The benchmark U.S. oil contract, West Texas Intermediate, for April delivery was down 50 cents to $101.73 a barrel. Oil prices jumped 2.6% Wednesday to close above $102 a barrel for the first time since September 2008.
Brent crude, the main European oil contract, fell 56 cents to $115.79 a barrel.
Oil prices came under pressure following reports that the Arab League is considering Venezuela's offer to send mediators to Libya, where fighting between rebels and forces loyal to Moammar Gadhafi continued Thursday.
Gadhaif's forces bombed two towns in eastern Libya on Thursday, witnesses told CNN, although a government spokesman said the reports were false. Bombs were reportedly dropped near an oil facility in al-Brega and on military camps in Ajdabiya.
While the conflict in Libya has disrupted supply from the North African nation, many investors are concerned that more oil could be taken off the world market if the unrest spreads across the Middle East.
Anti-government protests have roiled Yemen, Oman, Bahrain and other nations in the region after protesters in Egypt and Tunisia pushed out unpopular leaders earlier this year. Iran has also seen a renewal of the protest movement that has simmered in the oil-rich nation since the 2009 election.
"Even though some oil has been loading from Libyan oil terminals in the last few days, concerns remain that output could be totally shut," said Tom Pawlicki, an analyst at MF Global, in a report.
"So far, Saudi Arabia has made up for the shortfall by exercising its spare capacity," he continued. "However, a 'day of rage' is planned for March 11th, and until that day comes to pass, it's likely that oil prices will remain buoyed."
-- The CNN Wire Service contributed to this report.