The biggest losers in an NFL lockout? Everyone.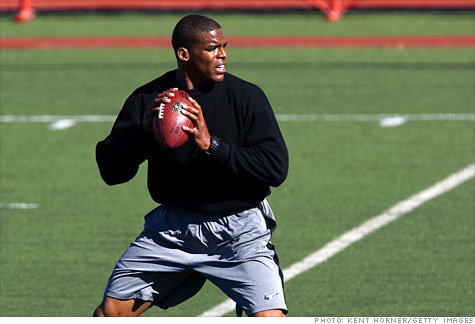 FORTUNE -- Editor's note: Friday afternoon, the NFLPA and owners agreed to extend the Collective Bargaining Agreement for another week; it now expires at 5 p.m. EST on Friday, March 11th. This has encouraged some optimism, though the song remains the same: if no new terms are reached, the NFLPA could decertify and a lockout remains possible. Read on to learn the ripple effect a lockout would have.
Shining NFL draft prospects like Cam Newton must be feeling a little neglected right about now. It's the time when buzz would normally be building to a fever pitch for new rookies, who have spent the past week strutting their stuff at the scouting combine in Indianapolis, in preparation for the draft in late April. Instead, all of football fandom is focused on the grim reaper of an impending lockout, as owners and players battle it out over contracts, money, and, let's face it: respect.
Today -- the expiration date for the league's current Collective Bargaining Agreement -- was to at last deliver an answer on the question that is the 2011-2012 NFL season. Though talks are ongoing, it's impossible to tell when, or whether, a deal might be reached. In other words, we may not have a resolution until the eleventh hour, late August, right before the season begins.
A ruling by U.S. District Judge David Doty in Minneapolis on Monday almost guaranteed that the wheels of progress would keep grinding slowly. Doty handed the players a major victory by ruling that the NFL's safeguard against a possible lockout -- which ensured $4 billion of TV money to the owners in the event of a stoppage -- violated the rights of the NFLPA, the players' labor union. "Today's ruling will have no effect on our efforts to negotiate a new, balanced labor agreement," the NFL insisted in a statement issued after the ruling. Sure.
Next up: a hearing to determine what reparations the NFL will now have to make to the NFLPA (in other words, where will that $4 billion go?), though the owners will almost certainly appeal. Meanwhile, the players have already voted to allow the union to decertify itself if labor chief DeMaurice Smith deems it necessary. That would nix the National Labor Relations Board's jurisdiction and allow the players to file an injunction preventing the owners from locking them out. Individual players could even sue owners, ensuring months of tedious legal wrangling.
All this could mean one thing: no NFL football games. Although a lockout had once seemed completely unthinkable, and though Doty's ruling makes it less likely (with no security trove to fall back on, the owners may be more inclined to bargain), a lockout of at least a few games is now very possible. Make no mistake: if this happens, almost everyone loses.
Rookies & endorsement deals
Newton and other hot prospects like A.J. Green and Mark Ingram are praying for resolution. "From an endorsement perspective," says Marc Ippolito of Burns Entertainment & Sports Marketing, "there's more at stake for you if you're looking for a deal or being considered. Companies are going to hold back, and won't want to spend money on a player if there's no season." This, Ippolito says, could apply to existing pros (think Michael Vick, who performed well enough that everyone expects him to get some new deals), but might apply most to big-name rookies that would be tasty bait for marketers.
"If you already have a current deal," Ippolito continues, "the marketer is fretting because they put money behind a talent, but with no season they obviously won't do much of an ad spend." Newton, for one, already sealed up a deal with Under Armour, the young company that did nearly $750 million in U.S. apparel sales in 2010. And Newton doesn't even have a team yet. The endorsement contract has been estimated at $1 million a year and CNBC's Darren Rovell has said it may be the largest deal ever given to an incoming rookie. "I can see Under Armour saying he's a big enough name that they can do ads around him regardless of the season," says Ippolito. "But if you're a top pick and expecting the usual offers, there might be a big hold back until we see a resolution." In other words, players are going to get nervous soon, and marketers already are.
Networks & advertisers
The last Super Bowl was not just the most watched ever; it was the best-rated television program of all time, according to Nielsen, with 163 million people tuning in. If there's no football, the networks lose you, the viewer. You tune into something else (like a reality show, or a sports league on another network) or abandon the tube entirely and head to the opera.
And if a lockout does happen, the networks have big chunks of time to fill with programming that, as Bob Dorfman of Baker Street Advertising points out, "will be nowhere near as valuable as football games." Ad time is bought in May, so what do advertisers do if the season goes away? They'll have to look elsewhere to spend their money, and it would probably be a far less appealing venue. It would probably be on other networks, Dorfman explains: "Maybe all the TV networks that don't have football contracts." Imagine seeing the biggest brands -- GM (GM), Anheuser-Busch InBev (BUD), Visa (V, Fortune 500), Ford (F, Fortune 500), and others you associate with football -- placing their priciest ads during How I Met Your Mother.
NFL teams: players & owners
Owners and players alike, though they're on opposite sides of the table, would suffer in some of the same ways if games get axed. Teams would be unable to hold training camp or any activities of any kind. They couldn't sign new guys. They couldn't make any personnel moves.
In addition, once the CBA expires, players will technically be unbound from league rules, so there is some concern that many could start violating NFL conduct standards or find themselves in trouble normally punishable with league fines or suspensions. Realistically, no one believes players are looting alcohol cabinets, but Dorfman does point out, "They could start doing ads for casinos, or for liquor. That may seem unlikely, but some players need the money."
The owners, led by the likes of New England's Bob Kraft and Dallas's Jerry Jones, feel they've had to spend too much on stadiums and increased costs. It's why they protected themselves with the $4 billion insurance chest that Judge Doty deemed unethical. The players, meanwhile (represented by NFLPA executive director DeMaurice Smith) have been getting nearly 60% of overall NFL revenues, which the owners feel is too high. An 18-game season, which Commissioner Roger Goodell and the owners have been pushing for, makes the revenue pot bigger so that players could go home happy even if their percentage share goes down. But two more games also means two more weeks of risk to their health. In light of rabid press about football concussions, it's two more games many players have said they don't want to put their bodies through.
Scott Boras, MLB super agent whose clients have included A-Rod and Matt Holliday, is watching the negotiations with years of experience from similar strikes in baseball. "I think [the owners' $4 billion war chest] turned out to be a costly maneuver that eroded legally," he says. "It was a tactical mistake. And now time is operating against the owners, not the players. The players can go back to work in a matter of weeks. The owners have to have the TV contracts and the advertising and all of that in place long before the season begins."
Boras believes the owners could be causing damage to the league that will last beyond the coming season. "There comes a point in collective bargaining where things don't make sense, because what you're risking and what you're gaining is not worth it for the league."
Meanwhile, although many teams are privately financed cash cows -- most of them are valued around $1 billion -- quite a few had abysmal ticket sales the past couple seasons. Teams like the Detroit Lions (who went 0-16 in the 2008 season), Tampa Bay Bucs, and Oakland Raiders all had crushingly low attendance last season, in a league that expects sellouts every week. They need to rebuild, but instead, they face an off-season that could put them in direr straits.
Fans
This means you, red-blooded American football viewers, and don't underestimate your own role in this. No season means no fantasy football leagues -- that's less traffic to sports news web sites, and less money circulating via office pools (see: Was my sports bet legal?). It means no Sunday night (or Monday night) watching parties, which brings a hit on supermarkets, corner stores, and any other businesses that sell beer, M&Ms, chips and dip. And it means your workweek becomes a little drearier without the playoffs to look forward to, or team records to brag about at the water cooler.
Moreover, consumers of media will go hungry. Think of your favorite sports columnist in the local paper. If she's a pro football beat writer, expect a lot of stories about furloughed assisstant coaches. ESPN's SportsCenter loses, daily papers with strong sports sections lose, reporters and broadcast pundits lose, and readers lose. If things drag on, the appetite for strike news could gradually be overtaken by apathy towards the whole spectacle, and a long climb back into the public consciousness when games finally restart.
Boras points to this as a significant hit: "The value of Internet properties would be dramatically affected [by a lockout] because all the content available on Internet and cable that's associated with analysis, if that goes away you have a massive content void. The online and TV content has become part and parcel of the culture." Indeed, as the biggest fans know, watching a game is just half of the experience. Then there are columns to read the next day, videos to watch, and highlights to email, Facebook share, and tweet about.
Stadium cities & employees
Forget economic impact to cities that host a Super Bowl (hint: it's enormous and although estimates can vary wildly, this year's game brought at least $100 million to the Dallas area). It's regular home games that bring steady cash flow to the Foxboros, East Rutherfords, and Arlingtons of the football world. Eight home games means eight Sundays of fans filling up at nearby gas stations, buying hot dogs from street vendors, and going out to bars afterwards. There's big money spent before and after the game at apparel stores near the stadium, by people who need a jersey or hat.
Then there's the mega business inside the stadium. Food and drink vendors like Aramark (RMK) thrive not just from running food stands but also by catering luxury suites. With no season, that all goes away, and worst of all, so do four months of work for stadium employees. Jobs will be lost. Gil Brandt, who was vice president of player personnel for the Dallas Cowboys for almost 30 years, tells Fortune: "I went through two of these before when I was with the Cowboys, and the people you feel for are the ones we employ at training camp, or the ones with seasonal jobs that work in the refreshment stands. Those are people that don't stand to gain anything from these talks, all they do is lose."
The NFL generates somewhere around $10 billion in revenue each year. This is a league that knows how to squeeze money out of every corner possible, a league that let the Cowboys charge fans $200 last season to watch the game on a screen outside the stadium. Most players have pretty big financial cushions, and owners would survive as well (though they have more fiscal and operational burdens to deal with than players). It's stadium employees and the many small businesses in and around football stadiums who don't have the margins to lean back on.
Merchandisers
An obvious side effect of a lockout would be merchandise sales. Matt Powell of SportsOneSource says, "We could see declines in the 50% range," though it will depend on whether games are canceled for a month or for a whole season.
"People get really mad at the teams, you know," says Powell. "If they feel mad at the owners for locking the players out, they won't want to support them by buying jerseys. It's also important to remember a lot of people buy this merchandise because they're going to a game, or because the team is doing well."
Meanwhile, apparel sales were already on the decline before this drama. Powell estimates that U.S. NFL merchandise sales last year were $2.1 billion. In the 2009 season, that number was $2.5 billion. "It's gone down steadily, but every league has taken a bit of a hit due to the recession," says Powell. "Apparel is a discretionary purchase. If people are short on cash it's the first thing to go." Short on cash, or short on actual games to watch, either way it means jerseys stay on the rack.
Does anyone win?
The one market that might stand to benefit from a lockout -- though you can trust that they're hardly rooting for it -- could be college sports.
Dan Fulks, an accounting professor and athletics adviser at Transylvania University in Lexington, Kentucky, who conducted economic impact studies for the BCS, sees a lockout having a real effect on college football players. "Kids won't be quite as eager to leave school early and enter the draft," he predicts. Still, that hardly makes them total winners in this scenario. Take those who have already signed up for the draft for this coming season -- where do they go?
"These kids made a decision based on information they had, and they signed with agents, and now if there's a lockout they've got nowhere," says Fulks. "I wonder if the NCAA would give them some kind of relief, assuming they haven't already taken money. The fair thing to do would be to let the kids go back to play in college." Unlikely.
Still, with no NFL, viewers could quite plausibly turn to college -- that old standby for seeing "the purity of the game" -- for their football fix. During the MLB strike of 1994, fans rediscovered the minor leagues. And not just college football, but even pro sports could benefit. In winter months, in lieu of the NFL playoffs, the NBA might get the fan runoff. United Football League, anyone?
Boras acknowledges the potential benefit to the MLB. "The whole focus would move to the baseball postseason and to college football," he predicts. "And advertising dollars would float over to the MLB as well."
Ippolito agrees about advertisers looking to both pro baseball and college football, and the reason is a lack of uncertainty. "An advertiser making decisions might say, 'Hey, we know that season is happening at least.' There could be new sponsorship potential for college football as well." Dorfman jokes that all sorts of dark horse companies, like The Home Depot (HD, Fortune 500), could benefit, too. "Players [not to mention former football fans] might spend Sundays working on their houses."
But get real -- no one wants a lockout to happen. And it isn't just about the massive amount of money on the table here; people love football. Everyone is hoping the owners and players hold this truth above all others.