Budget held hostage: Day 154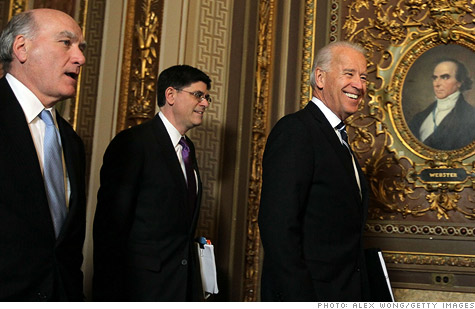 NEW YORK (CNNMoney) -- Thursday was the 154th day the federal government has operated without a budget.
It's also the day that President Obama took the reins and deployed top-ranking officials to talk the matter over with congressional leaders from both parties.
Obama sent Vice President Joe Biden, budget director Jacob Lew and Chief of Staff William Daley to Capitol Hill to hammer out a plan.
Their deadline is March 18, when the latest short-term spending bill -- the fifth this year -- expires. That's the game of chicken the government has been playing since the fiscal year started on Oct. 1.
Republicans have been saying they are reluctant to sit down and talk because they don't know what Obama wants to do with the budget, or how deep he might be willing to cut.
But on Thursday, administration officials signaled they were willing to move toward the Republican position.
Director of the National Economic Council Gene Sperling told reporters just before the meeting on Capitol Hill that the administration was willing to put $6.5 billion more in cuts on the table.
The White House already accepted a $4 billion reduction on Wednesday, when Obama signed a temporary spending bill that will keep the government running until March 18.
But House Republicans want to cut roughly ten times that much, and have already passed a spending bill that would do just that, by reducing spending authority by $61 billion.
And we know that Obama isn't thrilled with that starting position. He has already threatened to veto the bill.
Sperling also said Obama would be willing to accept further cuts, on top of everything already put on the table, if common ground can be identified that won't endanger the economy in the short-term, or U.S. competitiveness in the future.
The Biden dispatch is reminiscent of what Obama did in December, when he employed a similar eleventh-hour tactic that led to a compromise on extending Bush-era tax cuts.
In that case, Obama locked Senate Minority Leader Mitch McConnell in a room with some of his top deputies. And they ended up producing a deal.
One big difference: At the time, Obama had long telegraphed his position on the tax cuts for years.