Oil shock could push world food prices higher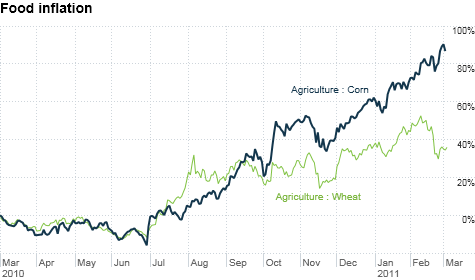 NEW YORK (CNNMoney) -- Food prices worldwide continued to rise in February, and the recent spike in oil prices could push food costs even higher in the months ahead, according to a report from the United Nations.
The food price index, which measures prices for a basket of food commodities, rose 2.2% last month, according to the UN's Food and Agriculture Organization. The index has increased for the last eight months in a row, and is at the highest level since it was created in 1990.
Sugar prices were slightly lower in February, compared with the month before. But prices for cereals, dairy products, meats and all other commodities in the index rose.
The FAO said it expects cereal prices to be sharply higher this year, due to shrinking inventories of wheat and coarse grains on top of growing demand. Export prices for major grains were up 70% last month versus February 2010, the report said.
From bad to worse: Global food prices have been moving higher in recent months as demand from emerging nations increases, and bad weather in certain parts of the world has cut the supply of key agricultural commodities.
But the recent run-up in oil prices threatens to make the situation even worse, the FAO warned.
"Unexpected oil price spikes could further exacerbate an already precarious situation in food markets," said FAO director David Hallam in a statement. "This adds even more uncertainty concerning the price outlook, just as plantings for crops in some of the major growing regions are about to start."
Oil prices surged above $100 a barrel last month for the first time since fall 2008. The oil market has been volatile since violence in Libya has curtailed production from the North African nation.
As a result, retail gas prices have risen 25 cents a gallon over the last ten days in the United States. Diesel prices have gone up 21 cents over the same time frame.
While oil prices could fall back if the political turmoil in the Middle East abates, economists expect higher oil and gas prices to increase transport costs and make food even more expensive in the near term.
"The energy price shock that we have seen in past few weeks is going to be another channel that will affect food prices," said Jeet Dutta, economist at Moody's Analytics.
In addition to higher transport costs, he said high oil and gas prices could further inflate food prices by driving up the cost of production. For example, farmers might be forced to pay more for tractor fuel, which could translate to higher prices for corn or wheat.
"Energy is a big part of the cost bucket in food production," he said, adding that retail prices typically lag commodity prices -- so consumers have yet to feel the full extent of the recent increases.
Price vs. demand: The run-up in energy prices comes against a backdrop of growing demand for food worldwide, and increasingly tight supplies of key commodities.
Dutta said food prices have been moving higher for several months, as rising prosperity in developing nations -- such as China and India -- have boosted demand for higher-end foods like meat.
Food prices have also been pushed higher by weather effects, including a famine in Russia last year that prompted Moscow to impose and export ban on wheat. Some wheat importing nations panicked and tried to buy in bulk, pushing prices even higher, Dutta said.
"There are a lot of uncertainties," he said. "Over the next few months certainly -- even up to a year -- it's hard to see how prices will come down meaningfully."
The poverty effect: The rise in food prices has already increased the number of people living below the poverty line, according to a recent report from the World Bank.
The Bank estimated last month that the rise in food prices since October has put 68 million people largely in food-importing nations below its poverty line of just $1.25 a day in income. High prices have also pushed 24 million in food producing countries above the poverty line.
High food prices were partly to blame for the popular uprising in Tunisia earlier this year, which led to similar movements in Egypt and Libya. That has raised concerns about political instability in other parts of the world where hunger and poverty are on the rise.
"Because rising food prices are already a source of spreading hunger and political unrest, this year's harvest will be one of the most closely watched in years," said Lester Brown, author of World on the Edge: How to Prevent Environmental and Economic Collapse.