Can't fix the brakes - gotta pay for gas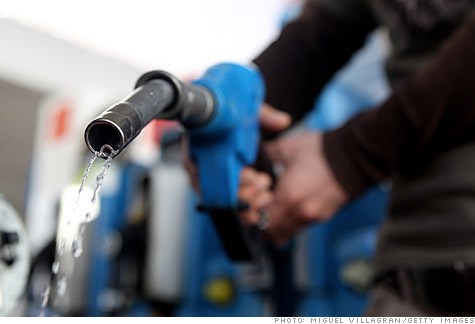 NEW YORK (CNNMoney) -- It costs John Kunkle about $75 to fill up the gas tank in his Dodge Ram. That's more than he can afford, so he's had to postpone fixing the brakes.
"It's really biting into my paycheck," says the 53-year-old who lives in Ellenton, Fla. "It's actually getting to where it's not very safe."
Nationwide, drivers spent $347 on gasoline in February, which is nearly 8.5% of median income, according to the Oil Price Information Service. That's nearly 30% more than they spent in February of 2010 -- and 74% more than two years ago, when they shelled out $200 on gas.
Still, gas prices remain shy of the record high reached in July 2008, when the national average price for a gallon of regular gasoline hit $4.11 and fuel accounted for 10% of consumer's income.
This recent run-up in gas prices has taken a big bite out of consumers' disposable income, leaving most Americans forced to cutback in other areas of their spending where there is rarely any cushion.
"There are some things, that if the price goes up, you can simply just cannot buy it anymore," said Paul Ashworth, senior U.S. economist with Capital Economics. "Unfortunately a change in the price of gasoline is at the other end of the spectrum."
"People still need to drive to work, they still need to take their kids to school, they still need to do all the things they did before so people are still going to use the same amount of gas," he explained. "It's just going to cost them more and that means they have less money to spend on other goods and services."
For example, Cory Andrews, 37, can no longer afford to send his youngest daughter to preschool in Fort Myers, Fla.
"When it comes down to putting gas in your car, food on the table and paying rent, it's about making choices," says Andrews, who commutes 70 miles a day to his job as an athletic trainer.
Brenda Jones, 53, has opted out of an evening college course that she hoped would aid her in her nonprofit business. But the class cost $3,200 and was far from her home in Southampton, N.J.
"I am afraid to spend that much money right now," Jones said. "Plus, it's a one hour drive so the gas expense alone was a big deterrent."