Oil price surge: Up 7% this week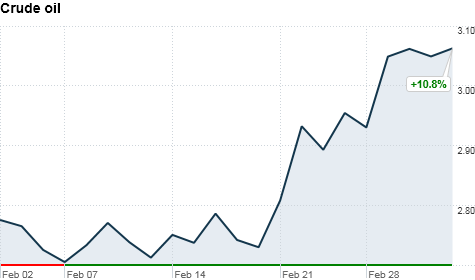 NEW YORK (CNNMoney) -- Oil prices rose more than 2% Friday, climbing above $104 a barrel, as the turmoil in Libya showed no sign of abating.
The benchmark U.S. oil contract, West Texas Intermediate, jumped $2.51, or 2.5%, to settle at $104.42 a barrel for April delivery. Oil prices are currently trading at the highest levels since September 2008, having jumped 6.7% just this week.
Brent crude, the main oil contract in Europe, climbed $1.55 to $116.34 a barrel.
Oil prices eased Thursday following reports that Venezuela could mediate the crisis in Libya, where fighting between rebels and forces loyal to Moammar Gadhafi continued to rage Friday.
But the advance resumed Friday following reports of renewed clashes in Tripoli, the capital city where Gadhafi maintains control. In addition, traders have questioned Venezuelan president Hugo Chavez's ability to calm the unrest in Libya.
"We are hearing rumors that Hugo Chavez will broker peace and bring stability to Libya... let's just say we're skeptical," said Stephen Schork, publisher of the energy industry newsletter The Schork Report.
Trading in the oil market has been volatile in recent weeks, as investors remain worried about potential supply disruptions if the chaos in Libya spreads to other oil producing nations in North Africa and the Middle East.
The International Energy Agency estimated Friday that roughly 1 million barrels per day of Libyan oil have been taken off the world market so far. Libya exported 1.6 million barrels per day in 2010.
Saudi Arabia and other members of the Organization of the Petroleum Exporting Countries have pledged to increase production to make up for any lost oil due to unrest in Libya.
Meanwhile, the U.S. economy added 192,000 jobs in February, up sharply from 63,000 the month before, the Labor Department said. The unemployment rate unexpectedly eased to 8.9%.
The jobs report, one of the most highly anticipated on Wall Street, was better than expected. Economists surveyed by CNNMoney had predicted an increase of 190,000 jobs in February, while the unemployment rate was expected to rise to 9.2%.