February jobs report: Unemployment falls again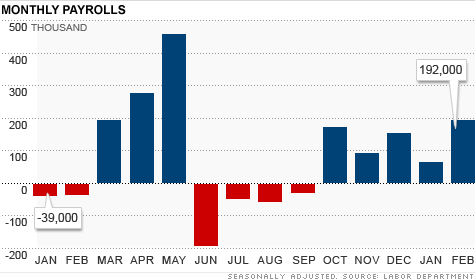 NEW YORK (CNNMoney) -- The jobs outlook brightened in February, as strong business hiring helped trim unemployment to its lowest level in nearly two years.
The unemployment rate fell to 8.9% last month, from 9.0% in January, the best reading since April of 2009. The unemployment rate has now fallen nearly a full percentage point in the last three months, the most rapid improvement in nearly 28 years.
Economists surveyed by CNNMoney were expecting the unemployment rate to edge up to 9.2%.
The economy gained 192,000 jobs in the month, roughly in line with economists' forecast of 190,000 jobs. Businesses added 222,000 jobs -- their best hiring month since last April -- while state and local governments cut 30,000 jobs.
Another good sign: More jobs were added in the previous two months than originally thought. Readings for December and January were revised upward by a combined 58,000 jobs.
The report could mean that the labor market has finally turned the corner and should start to help overall economic growth going forward, said Sung Won Sohn, economics professor at Cal State University Channel Islands.
"The last piston in the economic engine has begun to fire," he said.
Despite the recent improvement, unemployment remains significantly higher than before the Great Recession hit. Austan Goolsbee, the chairman of the White House Council of Economic Advisors, acknowledge more needs to be done to replace the 8 million jobs lost during the worst of the recession, despite the signs of improvement.
"The overall trajectory of the economy has improved dramatically over the past two years, but there will surely be bumps in the road ahead," he said. "It is important not to read too much into any one monthly report."
Why unemployment is falling
Still, businesses are clearly becoming far more confident about adding workers. Private businesses gained a total of 457,000 jobs over the last three months, even as state and local governments continued to lose jobs.
The gains have been widespread, with 68% of industries tracked by the Labor Department adding jobs in the month -- the most broad-based gain in employment across the business world since 1998.
And more job seekers are finding work. The unemployment survey -- which is compiled from a separate survey of households -- showed that 664,000 additional workers reported having a job compared to three months ago.
Lakshman Achuthan, managing director of Economic Cycle Research Institute, said this is likely a sign of a pickup in new businesses opening up, though new employers can be difficult for the government to track.
"These are things that fall under the radar," he said. "All of us probably know, anecdotally, stories of our friends and family who lost a job at a big place and took the opportunity to strike out on their own."
Another factor helping unemployment is a sharp decline in job losses. The number of people losing their jobs fell by 1.1 million since November, the biggest three-month decline since the Labor Department began tracking that number in 1967.
That improvement has also shown up in readings on jobless claims -- the number of people filing for first-time unemployment benefits hit a three-year low last week.
"We're not firing like we were and there is new business formation," said Achuthan. But he cautioned that the market is still difficult for the long-term unemployed.

Nearly 6 million Americans have been out of work for more than six months and the average duration of unemployment climbed to 37 weeks in February, a post-World War II record.
And the unemployment rate is likely to rise as the labor market continues to improve and job seekers sitting on the sidelines return to the work force, said Tig Gilliam, president of the North American unit of job placement firm Adecco.
The number of jobless people who are no longer counted as unemployed because they're not actively seeking work remained little changed at about 2.7 million.
"There are enough people who are discouraged about the job market that they just haven't actively looked," he said.