GM's painful addiction? New car discounts take hold again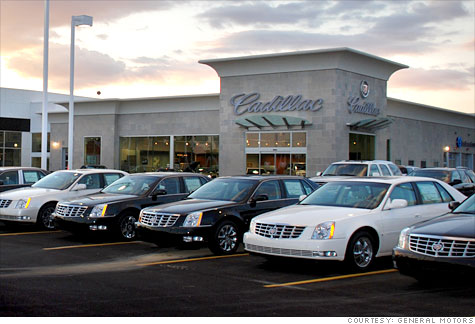 FORTUNE -- Auto executives commonly refer to discount pricing of vehicles as an addiction: sure to bestow pleasurably higher sales volume, at least for awhile, but difficult to kick and potentially destructive over time.
All eyes are on the surging U.S. market share of General Motors Co. (GM), which was driven by the deepest discounts in the industry in January and February. Through March 1st, GM had captured 21.3% share, up from 19.4% during the comparable two-month period last year.
Last year GM struggled to maintain a 19% share. A point of share this year could equal 130,000 vehicles, and potentially could be worth a couple billion dollars in revenue. But selling cars at too-narrow profit margins and, worse yet, sparking a price war that results in a flood of unsold vehicles for a recovering industry would spell disaster.
GM knows all too well about over-production; it was a key factor in the company's eventual bankruptcy filing in mid-2008. And the fear of a recurrence is the reason why GM executives insist that they are much more disciplined than in the pre-bankruptcy era in terms of matching production to demand.
"The real question is Ford (F, Fortune 500) and how much longer they will allow GM to add share without responding with price cuts of their own,'' said Jeremy Anwyl, chief executive of Edmunds.com, the automotive website that tracks discounting and other industry trends.
While GM's share rose, Ford Motor's share for the first two months of 2011 dropped to 15.6 % from 16.9 % in the early part of 2010. Ford's average discount last month was $2,778 per vehicle, according to Edmunds, compared with $3,845 per vehicle for GM. Last year the two U.S. automakers were much closer to one another, in terms of discounting.
GM says that its discounts, as a percentage of the average transaction price of a vehicle, haven't been remarkably higher that those of the industry in general.
In a written response to a question from Fortune, GM vice president of U.S. sales Don Johnson said "when you look at our February results, incentives (discounts) alone don't fully explain a 70 % retail increase."
GM explains that its focus on four rather than eight brands (the halving due to bankruptcy); its smaller and healthier dealer network; and the acquisition of a financial subsidiary, now known as GM Financial, are factors in the share increase.
The addition of a financial subsidiary has allowed GM to grow more active in leasing, including subsidized leasing, another form of discounting.
Whatever their reason for buying, shoppers choosing a GM model in February benefitted. The average discount on a Chevrolet Impala during that period was nearly $7,500; the discount on a Silverado pickup was about $3,800; and a Cadillac CTS was reduced in price by $7,700.
According to Edmunds, about 70 % of all Cadillac CTSs sold last month were in lease deals.
The key to maintaining financial prosperity for GM, Ford and other automakers will be to align their production with true consumer demand, unbiased by broad and generous discount programs. In the unfortunate event of a price war, shoppers would be the winners. But automakers eventually could find themselves trying to digest swollen inventories and facing new-vehicle production shutdowns.
Any interruption in production will have immediate repercussions on revenue and profit, which could be why -- along with rising gasoline prices -- GM and other automotive stocks have been weak. GM shares are off 11.5% in the past month; Ford shares are down 8.3% during the same period.
GM's discounting initiative may wane in the coming weeks if, as the automaker says, it was merely a strategy to kickstart sales in the dead of winter. Howver, if Ford soon ratchets discounts higher, the ensuing competition might be difficult to stop.