Pennsylvania budget calls for deep spending cuts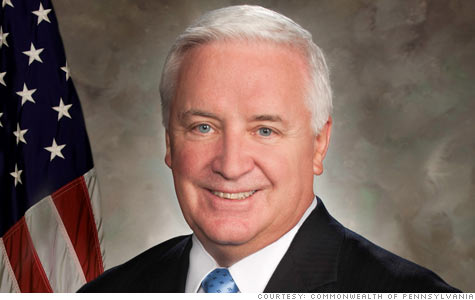 NEW YORK (CNNMoney) -- Calling the state's fiscal problems unprecedented, Pennsylvania Gov. Tom Corbett unveiled Tuesday a budget that asks state employees to forgo pay increases and pay more for their health care.
The state is facing a budget gap of more than $4 billion, and its new governor is keeping his promise not to raise taxes to close it. Instead, he is looking for concessions from public employees and for cuts from a wide array of agencies. Also, some 1,500 positions would disappear in the budget that cuts overall spending by 3%.
"We have to spend less because we have less to spend," Corbett said. "We must tax no more because people have no more to give."
Corbett, a Republican, is tackling his budget problems in much the same way as other governors around the nation. Many are taking an ax to employee compensation, education and social services. But unlike state leaders in places such as Wisconsin and Ohio, Corbett is not looking to reduce public worker unions' collective bargaining rights.
Hits to state workers
The governor is leaning hard on education -- both K-12 and college level. Together, these suck up 38% of the state budget.
"Education cannot be the only industry exempt from recession," Corbett said. "We need to change the whole system. We need a new set of priorities: child, parent and teacher -- and in that order."
Corbett is asking teachers to freeze their salaries for a year, saying it would save $400 million, and he wants school districts to be allowed to furlough employees during tough budget times.
But he still plans to cut $550 million from basic education funding. He is also looking to reduce state mandates and promote school choice. And he wants to allow voters to rule on property tax hikes school districts may propose to make up for state funding cuts.
The state university system would see its state funding slashed $271 million, while Penn State, University of Pittsburgh, Temple and Lincoln universities would lose half their funding.
The governor also said he will be looking for salary roll-backs and freezes from the state's 62,000 employees, as well as having them pay more for health care.
And he wants to start discussions on fixing the pension system, which could mean higher contributions or less generous benefits.
Encouraging growth
Like many of his peers, Corbett said the key to improving the state's fiscal situation is stimulating economic growth.
Corbett plans to do this by eliminating a tax on supplies and goods, as well as by retaining a bevy of business tax credits. And he rejected the idea of taxing gas from the Marcellus Shale, as some have urged him to do.
He also wants to enact tort reform to limit companies' legal liability costs, promising that unlike his predecessor, he would sign such a bill. And he wants to look at privatizing some state industries, particularly liquor sales.
"Government is not meant to be the answer for jobs," he said. "The private sector is."
Not everyone loses out in Corbett's budget plan. The governor plans to fund two new classes of troopers for the Pennsylvania State Police, as well as pour $2 million into the Safe School Initiative. And he would spend $3.4 million to hire 53 new parole officers to reintegrate more inmates into society.
"We need to be tough on crime, but we also need to consider the fiscal implications of our prison system," he said. "We need to find additional parole officers to help freed inmates make the transition from the prison yard to Main Street."