Mideast revolution will spread, violence won't - oil exec.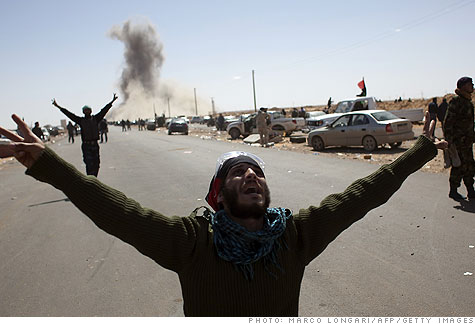 HOUSTON (CNNMoney) -- Revolutions calling for democracy, transparency, and employment will eventually engulf the entire Middle East, the head of the Kuwait Energy Company said Tuesday.
But the oil executive said that the violence that has marked some protests and thrown Libya into a full-scale civil war should be isolated; oil supplies will remain safe; and that the United States should stay out of the way.
"All the Arab countries are uprising," Sara Akbar, chief executive of privately-held Kuwait Energy, said at IHS CERA's annual energy conference. "The spark is very contagious, and everyone is getting it."
But while Libya has descended into civil war and Yemen may split up, she said Saudi Arabia's ruler, King Abdulhah, should be able to placate his people with reforms before the discontent turns violent.
Moreover, a transition in the Middle East, while it might be years in the making, will be beneficial for everyone involved as corruption is rooted out and the economies can expand, she said.
"This is a big positive step for the future," Akbar said. "Everyone is very happy."
Oil prices have rallied over 10% in the last month, mostly due to fear that the growing violence in the Middle East will spread to other major oil producing countries like Kuwait, United Arab Emirates, and, especially, Saudi Arabia.
Akbar noted her company continued producing oil in Egypt during the uprising there and also in Yemen when that country went through a decade of civil war.
"No matter what regime it is, they want the production to continue," she said.
Her enthusiasm for relative stability in Saudi Arabia was generally shared by others on the panel.
"I think the proposed protests on Friday are going to be a non-event," said Brad Bourland, chief economist at Jadwa Investment, referring to the 'day of rage" protests slated to take place later this week in the desert kingdom.
Bourland noted the Saudi stock market is up 14% this week, a sign investors are betting the country will remain strong.
President Obama has been criticized by some conservatives for not taking a more active role in the Middle East during the current protests, but nearly everyone on the panel thought that doing so would be a bad idea.
"The people on the ground will say 'oh, this is just the U.S. interfering again,"" said Akbar. "People in the Middle East are very conspiracy-theory minded."
If any outside intervention is done to topple Libya's Moammar Gadhafi, whom Akbar called "a total moron," it should be done by the United Nations, she said.
Other panelists agreed.
"Any U.S. intervention would be very unwelcome," said James Placke, an analyst at IHS CERA and a former diplomat in the Middle East. "That's a point I hope Washington will grasp."