Oil remains lower despite Saudi protest reports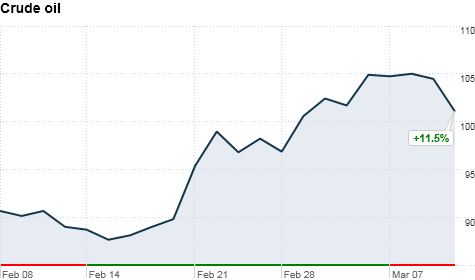 NEW YORK (CNNMoney) -- Oil prices were lower in a volatile session Thursday, following reports that police in Saudi Arabia opened fire on protesters ahead of a planned demonstration.
The main U.S. oil contract, West Texas Intermediate, dropped $1.68, to settle at $102.70 a barrel. Brent crude, the European benchmark, declined 64 cents to $115.30 a barrel.
Oil prices were down sharply earlier in the day as worries about potential supply disruptions gave way to fears that global energy demand may not be as robust as previously thought. They hit a low of $100.62 at one point.
But prices edged up from their lows after published reports said Saudi Arabian police opened fire on hundreds of protestors in the eastern city of Qatif. The reported shooting comes one day before a planed "day of rage" protest in the oil-rich desert country.
Tom Pawlicki, an analyst at MF Global, said those reports may have trumped fears about China demand slowing after it reported a a surprise trade deficit as well as concerns about a stronger dollar.
The dollar rallied against the euro after Moody's lowered its credit rating for Spanish debt, days after cutting Greece's credit rating by three notches. A stronger greenback often pressures prices for commodities priced in the U.S. currency, such as crude oil.
Oil prices have spiked higher recently due to fears that the upheaval spreading across North Africa and the Middle East could lead to additional oil being taken off the world market.
The civil war in Libya has already cut production there by 1 million barrels per day. But traders are more concerned about possible unrest in Saudi Arabia, one of the world's largest producers of crude oil.
In addition, political strife has shaken governments in Yemen, Oman, Bahrain and other nations in the oil-rich Middle East.