Why banks are fighting over 12 cents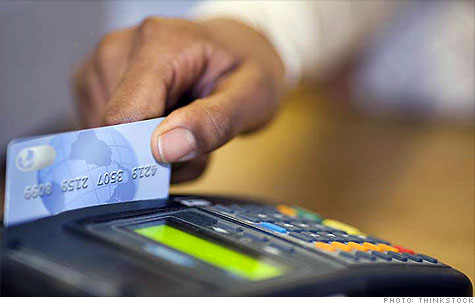 NEW YORK (CNNMoney) -- The banking industry and the Federal Reserve are about to do battle. And they're squaring off over 12 cents.
Twelve cents that add up to billions of dollars per year on debit card transactions.
Right now, every time you pay for something with your debit card, your bank makes an average of 1.14% of the purchase, or 44 cents per transaction. That adds up to about $16 billion per year.
But the Federal Reserve wants to limit this so-called interchange fee to just 12 cents per swipe. That could cost the industry upwards of $13 billion, according to CardHub.com.
Banks, naturally, are not happy about the huge potential losses. Take a $1,000 purchase, for example. Today, banks could make more than $10, which is paid to them by the retailer. But under the Fed's proposed rules, they would get just 12 cents. And that, they say, is not enough to cover their costs.
Retailers, on the other hand, are cheering the cap, saying they will be able to pass along billions of dollars of savings to consumers.
"This is a huge step in curtailing out of control fees," said Rachel Wolf, a spokeswoman for the Merchant Payments Coalition. "Because retail is such a competitive industry, any savings retailers get they are going to pass along to customers, because if you don't offer competitive prices, someone's just going to go across the street to the competitor."
The new rules are expected to become official in just six weeks and then go into effect in July. As a result, the battle is getting pitched and banks are spending huge sums lobbying against what is known as the Durbin Amendment to the Wall Street reform act passed by Congress last year.
The act required the Federal Reserve to regulate the interchange fees on debit cards in order to keep retailers and consumers from paying more than their fair share for the banks' services. But Congress left it up the Fed to determine what these regulations should look like.
"Many members in this body are being lobbied right now by banks and card companies to repeal this law, to undo the interchange reform that Congress passed last year. It is one of the most active lobbying efforts I've ever seen," said Illinois Sen. Richard Durbin, who was speaking on the Senate floor late Thursday. "Normally the card companies and the big banks are used to getting their way in this town."
And there's the standoff.
Banks are already breaking out the threats to consumers. On Thursday, CNNMoney learned that JPMorgan Chase is considering denying all debit card purchases greater than $50 or $100 -- regardless of whether you select "credit" or "debit" at the register.
"The debit card that we know and love today will never be the same again if this rule goes into effect," said Trish Wexler, a spokeswoman for the Electronic Payments Coalition, which represents Visa, MasterCard, credit unions and banks. "Some people will have to pay more per transaction, some people won't be able to make certain purchases, and customers are going to have a choice -- do I switch to credit, go to a prepaid card and pay for extra fees, or go to a nontraditional bank if I don't have a credit card?"
Charles Scharf, the head of retail financial services at JPMorgan Chase, said in a presentation to investors last month that about 5% of Chase customers would have to exit the banking system if the amendment goes through as planned.
Even the Consumer Federation of America, which lobbies on behalf of consumers, says limiting the fee to 12 cents might be short-sighted.
"Our take is that the current interchange fee situation is not good for consumers, but if the final rule that's established doesn't allow banks to recoup their actual cost for providing processing debit transactions, it could lead to higher costs being imposed on low to moderate income consumers," said Travis Plunkett, legislative director of the CFA.
So why do banks need to make more than 12 cents per transaction?
The Fed determined that 12 cents per transaction is what it takes to make the system run. But banks say they need more. In particular, they need the extra money to help cover costs incurred from fraudulent changes.
Because the current fee structure is proportional to the transaction size, the bank makes more money on larger transactions. But if they're only able to get 12 cents even for big-ticket purchases, it will be harder to offset losses.
If a spending limit becomes a reality, debit card users are really going to have to re-assess their options. Brian, a CNNMoney reader from Kansas, said he has been a loyal customer at his bank for nearly a decade and uses his debit card for everything.
"What this means is that the banks are trying cutting people like me off at the knees," he said in an e-mail. "The banks are making billions off of our day-to-day struggle to keep it together and live within a budget. They want people to be slaves to their credit card accounts. It's proposed policies like these that show their true intentions: Make the rich richer, destroy the middle class, and keep the poor in their place."
What choices do consumers have if the Fed and the banks can't end their showdown?
For one, customers could simply go shopping for another bank. Even if the megabanks add fees or limit the amount you can buy on your debit card, there will always be other options out there, including many small, local banks, said Gail Hillebrand, a senior attorney at Consumers Union.
"As usual consumers are stuck in the middle having to do our homework as we watch out for the changes and watch out for the ones affecting us adversely," she said.
Tim Mayr, another CNNMoney reader, said he won't think twice before he ditches his bank if a spending cap comes along.
"They've been gouging the public for years, and now they're threatening to severely limit debit cards because they will only be able to charge a reasonable fee for debit transactions, instead of four or five times their actual transaction costs," he said. "That's nonsense. If any bank actually limits debit card transactions to $50 or $100, I'll eat my debit card!"