Tokyo stocks tumble; Nikkei ends down 6%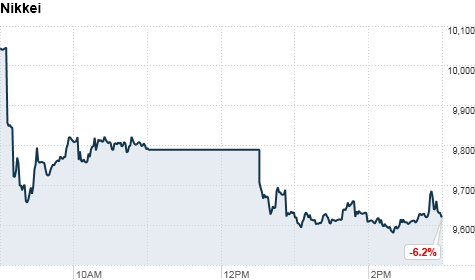 NEW YORK (CNNMoney) -- Japanese stocks were hammered Monday, with the leading Japanese stock index finishing more than 6% lower in investor reaction to last week's massive earthquake.
The Nikkei-225 (NKY) index ended down 634 points, or 6.2%, to 9,620. The index finished near its lows for the day, having dropped more than 675 points before a small recovery.
Some of the biggest names in Japanese industry took a drubbing. Toyota (TM) was down more than 8%, while Sony (SNE) and Nissan Motor were 9% lower.
It was a quieter day in the rest of Asia. Shanghai's main index finished 0.1% higher and Hong Kong's Hang Seng index closed up 0.4%.
European markets were lower in early trading. Germany's DAX slid 1.4%, France's CAC-40 was 0.4% lower and Britain's FT-100 slipped 0.2%.
U.S. stocks were headed for a lower start when the new trading week begins. S&P 500 futures 0.6%, Nasdaq-100 futures were 0.8% lower and Dow Jones industrial average futures were off by 0.5%.
The Tokyo Stock Exchange opened as usual at 9 a.m. Japan time on Monday. The exchange had issued a statement saying that it has contingency plans in the event of blackouts or other disruptions.
On Friday, investors worldwide were rattled after the massive earthquake and tsunami struck Japan.
Asian markets, which were falling before the tsunami hit, ended sharply lower. Japan's benchmark Nikkei index declined 1.7%. Stocks in London, Frankfurt and Paris fell less than 1%. But U.S. markets bounced back after initial declines to finish more than 0.5% higher.
The most powerful earthquake to hit Japan in at least 100 years unleashed walls of water that caused widespread damage. The official death toll reached 1,647 Monday. But the numbers did not take into account the 2,000 bodies that Japan's Kyodo News said had been found in the hard-hit Miyagi Prefecture on Japan's northeast coast.
In addition, there was a second explosion at a damaged nuclear power plants. But the explosion did not damage the reactor or result in significant radiation leakage, Chief Cabinet Secretary Yukio Edano told reporters.