Japanese earthquake could be most expensive ever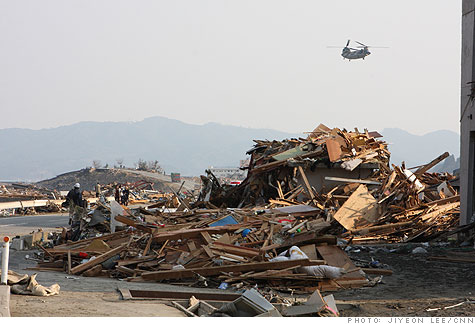 NEW YORK (CNNMoney.com) -- While the full extent of the disaster's aftermath is not yet clear, the earthquake and tsunami that devastated parts of Japan could be the most expensive quake in history.
Its toll on Japan -- its people and its institutions -- is already staggering.
By official counts, more than 1,500 people have perished and about as many have been reported missing. There are fears that the death count could go much higher as rescuers get to towns that were washed away by powerful flooding.
Damage to power reactors has sparked fears of nuclear meltdown and radiation contamination. As of Sunday morning, nearly 5 million homes were without power. (Bank of Japan to help banks)
And the financial cost to the Japanese government, businesses and individuals is expected to be big. Cautioning that their estimates are preliminary, several experts made early calculations of the quake's financial cost on Sunday.
Losses from the quake, tsunami and fires will total at least $100 billion, including $20 billion in damage to residences and $40 billion in damage to infrastructure such as roads, rail and port facilities, catastrophe modeling firm Eqecat estimated.
Another firm, AIR Worldwide, estimated that losses covered by insurance could reach between $15 billion and $35 billion from the earthquake alone. It did not estimate losses from the tsunami or the damage to the the Fukushima Daiichi nuclear plant in northeastern Japan.
According to AIR, the number of Japanese businesses and homeowners with earthquake insurance is relatively low, ranging between 14% to 17%. As a result, the total financial toll for the catastrophe could be considerably higher than the estimate of insured losses.
In the 1995 earthquake in Kobe, the most expensive in history, total losses were $100 billion but insured losses only $3 billion, according to the Insurance Information Institute.
By comparison, the 1994 quake in Northridge, Calif., northwest of Los Angeles, had the highest tally of insured losses ever -- $15.3 billion. In today's dollars, adjusted for inflation, that comes to insured losses of $22.7 billion.
The Insurance Information Institute said it believes the losses from Friday's disaster will prove to be the most expensive earthquake in history, although it did not give any dollar estimate of the costs.