Tokyo stocks plummet as crisis deepens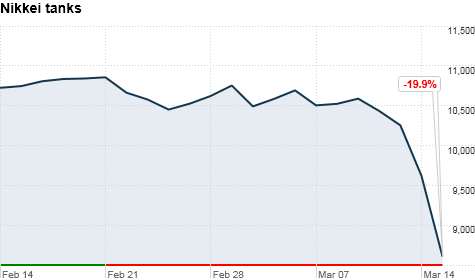 NEW YORK (CNNMoney) -- Panic overtook investors in Japan on Tuesday, with stocks plunging more than 10%, as the nation's nuclear crisis deepened in the aftermath of last week's earthquake.
The Nikkei 225 index, the most prominent measure of Tokyo market stocks, was down 1,390 points -- or more than 14% -- at one point in the session.
In the end, the 10.6% closing marked the third worst one-day plunge in the Nikkei's history.
The huge losses on Tuesday came on top of a 6.2% drop Monday, the first full trading day after the quake. In all, the index has fallen nearly 16% in two days.
The Tokyo market opened shortly after the owner of the Fukushima Daiichi nuclear power plant in northeastern Japan reported an "explosive impact" at the plant's No. 2 reactor, a day after a hydrogen explosion rocked another reactor. The plant was among the many structures damaged or destroyed by the 9.0 magnitude earthquake and subsequent tsunami.
The confirmed death toll is 2,475. Thousands more are missing and 450,000 people are reported homeless. (CNN: Anxiety in Japan grows as rescue workers find more bodies)
Japanese officials said Monday they will backstop the country's financial system, with a cash injection of more than $180 billion, to buffer it against the impact of the disaster. Reports said the Bank of Japan added another $98 billion to that figure on Tuesday.
Other Asian markets were also hit by fears on Tuesday -- a day after modest gains in the face of the Japanese sell-off. Hong Kong's Hang Seng index dropped 3.1%, and the Shanghai Composite fell 1.6%.
European markets also closed sharply lower. Germany's DAX dropped 3.2%, while France's CAC-40 lost 2.5% and Britain's FT-100 retreated 1.4%.
U.S. stocks were mired in a sharp sell-off Tuesday. The Dow Jones industrial average, Nasdaq and S&P futures were all down about 1.7% in afternoon trading.
World markets finished generally lower Monday, as investors assessed the impact of the Japanese disaster on the global economy.
--A CNN Wire report was used in compiling this story.