U.S. stocks headed for big sell-off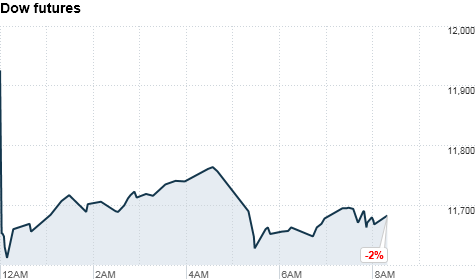 NEW YORK (CNNMoney) -- U.S. stocks were headed for a major sell-off at the start of trading Tuesday, following an 11% drop in Japan's leading index in the wake of a nuclear crisis caused by last week's earthquake.
Dow Jones industrial (INDU) average futures were down 2%, which would translate to a 243-point drop in the index at the open. S&P 500 (SPX) futures were off 2.4% and Nasdaq (COMP) futures were down 2.6%. Futures measure current index values against perceived future performance.
Japan's Nikkei index ended down nearly 11%, as the crisis at the Fukushima Daiichi nuclear power plant deepened. The index was down as much as 14% during the session before recovering at the close. (Nikkei ends 10% lower)
Japanese Prime Minister Naoto Kan said the risk of radioactive material leaking from the crippled plant was very high, and a government spokesman warned people within 18 miles of the facility to stay indoors.
Explosions and fire at the facility occurred after it was damaged by last week's 9.0-measure earthquake. The official death toll from the quake and subsequent tsunami has risen to 2,475, but more than 3,000 people remain missing.
Among the U.S. stocks getting hammered during premarket trading, shares of General Electric (GE, Fortune 500) fell more than 4.6% after dropping earlier nearly 9%. The Japanese nuclear plant that exploded on Saturday is equipped with GE-designed reactors.
"The U.S. market is pricing in a worst-case scenario with the nuclear situation," said Mark Luschini, chief investment strategist at Janney Montgomery Scott.
"The concerns about radiation, and what that could mean for loss of life, could make this a more globalized crisis rather than a centralized disaster," he added.
Advanced Micro Devices, (AMD, Fortune 500) Motorola Mobility (MMI), AIG (AIG, Fortune 500), US Bancorp (USB, Fortune 500) and Capital One (COF, Fortune 500) were the biggest U.S. decliners in premarket trading.
Other Asian markets finished lower. The Shanghai composite lost 1.4%, and Hong Kong's Hang Seng index fell 2.9%.
European markets slid sharply in afternoon trading. Germany's DAX dropped 4.6%, while France's CAC-40 lost 3.8% and Britain's FT-100 retreated 2.5%.
The Japanese government has taken steps to shore up the nation's financial system. But investors remain nervous about the short-term outlook for the world's third-largest economy.
U.S. stocks fell Monday, as investors focused on the staggering human and economic toll of Japan's disaster.
Oil prices recovered from early losses Monday, after foreign troops arrived in Bahrain, the strategically and financially important Persian Gulf kingdom that has been roiled by citizen protests for a month.
Economy: In the United States, the Federal Reserve is scheduled to release its policy statement in the afternoon.
The central bank's Federal Open Market Committee is not expected to discuss any changes to interest rates or its asset purchase program, according to analysts at Brown Brothers Harriman.
After trading starts, investors will get a report on the housing market from the National Association of Home Builders.
Currencies and commodities: The dollar fell slightly against the yen, but rose versus the euro and the British pound.
Oil for April delivery fell $3.88, or 3.8%, to $97.31 a barrel.
Gold futures for April delivery dropped $37.70, or 2.7%, to $1,387.20 an ounce.
Bonds: The price on the benchmark 10-year U.S. Treasury rose as investors sought the safety of government debt, pushing the yield down to 3.24% from 3.35% late Monday.