Nearly 20% of Florida homes are vacant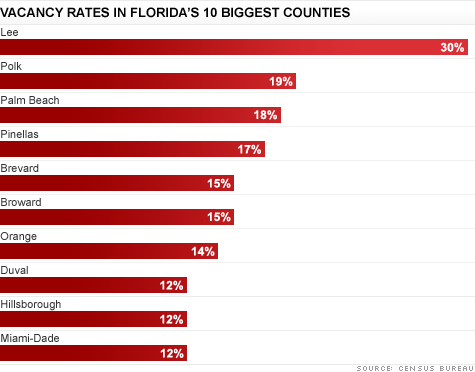 NEW YORK (CNNMoney) -- It's not always easy to feel sorry for sunny Florida. But they just got hit with another blow.
On Thursday, the Census Bureau revealed that 18% -- or 1.6 million -- of the Sunshine State's homes are sitting vacant. That's a rise of more than 63% over the past 10 years.
Having this amount of oversupply on the market will keep home prices depressed and slow any recovery.
During the housing boom, Florida was among the hottest real estate markets in the nation. Homes were snapped up by the state's growing population as well as hordes of investors confident that prices would continue to soar.
"You'd drive through downtown Miami and see 30 or 40 cranes sticking up in the air," said Michael Larson, a housing market analyst for Weiss Research.
The bust brought an end to that. Development ground to a halt. Retirees stopped relocating. And prices started falling and vacancies rising.
"Housing went from being the preeminent investment of choice to toxic waste," added Richard DeKaser, an economist with the Parthenon Group.
The vacancy problem is more dire in Florida than in any other bubble market: In California, only 8% of units were vacant, while Nevada, the state with the nation's highest foreclosure rate, had about 14% sitting empty. Arizona had a vacancy rate of about 16%.
In Florida, the worst-hit county is Collier -- home of Naples -- with a whopping 32% of homes empty. In Sarasota County, 23% of the housing stock sits vacant, while Lee County (Cape Coral) has a 30% vacancy rate. And Miami-Dade County has a vacancy rate of about 12%.
The housing recovery will take years, perhaps many years, to complete, according to Ingo Winzer, a housing market analyst and founder of Local Market Monitor.
Not helping is the the fact that the state's rate of population growth slowed in the second half of the last decade to just 5.7%. Still, the 2000s saw the state population grow overall by nearly 18%, the Census Bureau reported. I
"It will take about eight years just to put the vacancy numbers back into the single digits," said DeKaser.
The inventory overhang has sent home prices plunging. The median price for homes sold in January was just $122,000, according to the Florida Association of Realtors. That was down 7% from 12 months earlier and less than half the price at the peak of the market.
Winzer thinks prices in Florida will drop even more, another 5% in 2011 and 3% in 2012. "Even after that, they're not going to rebound, they'll just sit on the bottom," he said.
Celia Chen, a housing market analyst for Moody's Analytics, is also downbeat in her forecasts for Florida. Not only will prices fall another 11%, she said, but the bottom won't hit until mid-2012, about a year later than the nation as a whole. Some metro areas won't get back to their pre-recession peaks until long after the present owners are old and gray.
She doesn't expect Naples, for example, to come all the way back until the late 2030s. Other Florida metro areas with a 20-year wait or longer include Punta Gorda, Palm Bay and North Port.
"If you're buying in Florida for retirement," said Winzer, "maybe you buy next year when prices will be near the bottom. If you're buying for investment -- don't."