When to cut the deficit: Sooner or later?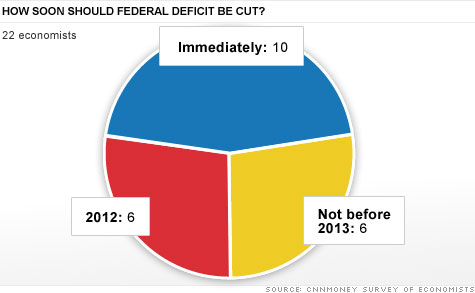 NEW YORK (CNNMoney) -- The debate among economists is not whether to reduce the more than $14 trillion of federal debt. It's when.
As Congress debates budget cuts and spending limits, economists are also torn about whether to reduce debt now or delay painful spending cuts until the economy is in better shape.
Of the 22 economists surveyed by CNNMoney, 10 think significant cuts in spending should be made immediately. But more than half want to wait. And those who would rather wait are split evenly between when to cut: 2012 or 2013 at the earliest.
The economy is still too fragile to start cutting now, according to Sal Guatieri, senior economist at BMO Capital Markets. He thinks Congress should wait until "next year, once the expansion is more durable and the unemployment rate is lower."
But others think that 2012 is too soon to act, given how long most expect high unemployment to dog the recovery.
"With the economy still operating below potential, this short-term deficit reduction may impair the recovery in what remains a vulnerable, demand-deficient economy," said Neil Dutta, economist with Bank of America/Merrill Lynch, who wants to wait until 2013.
Still, nearly half of the economists surveyed believe that federal deficits are a serious problem, and the economy has recovered enough, that cutting sooner rather than later is justified.
"The risk that deficit reductions will stifle the economic recovery is an acceptable one, even if painful," said Kevin Giddis, managing partner at Morgan Keegan. "By contrast, the challenges resulting from an economy operating at unsustainable deficits are potentially unfixable -- at least, not without a great deal of pain."
Kurt Karl, chief U.S. economist for Swiss Re, said he doesn't expect to see the long-term deficits in Social Security, Medicare or Medicaid solved anytime soon. But he would like to see Congress start making substantial cuts, perhaps $25 billion to $50 billion in the current fiscal year that ends Sept. 30, and $100 billion to $200 billion in the upcoming fiscal year.
"It doesn't have to be huge," he said. "There are some risks out there, but it's time to get moving."