Shopping for a car? Buy now before prices jump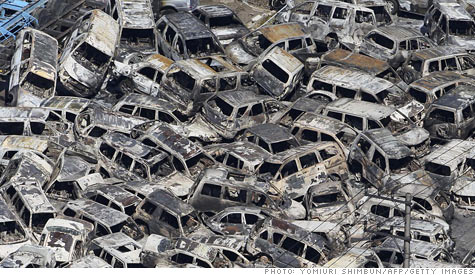 NEW YORK (CNNMoney) -- If you're in the market for a new car, but especially if you're looking at a fuel-efficient Japanese model, experts say you're better off buying now because prices will only get higher in coming weeks as the effects of the earthquake in Japan and the unrest in Libya and the Middle East start to be felt.
Up to now, Japan's earthquake has had little effect on prices of Japanese cars here. For the most part, dealers already had cars on their lots with more coming on ships and trucks.
Besides, most "Japanese" cars sold in the U.S. are made in North America.
But in the coming weeks, factory shut-downs and other disruptions in Japan could make it difficult to find some Japanese-built cars. The problems could even affect inventories of American cars, since some components may be produced in Japan.
General Motors already had to shut down a Louisiana factory producing mid-size pick-up trucks due to a shortage of unspecified Japanese parts.
"We haven't seen the biggest climb [in prices] yet for most cars," said Jesse Toprak, an auto sales analyst for the auto pricing Web site Truecar.com.
Price increases will begin later this week, he predicted, and continue through April.
Aaron Bragman, a senior analyst for industry consultants IHS Global Insight thought it might take a little longer before the real impact is known.
"We're still a couple of weeks away from getting the big picture of who's really going to be affected by this," he said.
Since prices for cars are set on a case-by-case basis through individual negotiations, actual car prices can fluctuate greatly depending on market forces, as opposed to the commonly advertised manufacturer's suggested retail price, or MSRP.
Then there is simple supply-and-demand. Prices for well-regarded new domestic or Korean compact models will likely also rise as more customers turn to them in lieu of hard-to-find Japanese competitors, Bragman said.
Factory disruptions caused by the earthquake came on top of rising gasoline prices that had already started pushing up prices for the fuel-efficient cars Japanese automakers are especially known for.
With the U.S. and other nations now involved in fighting in Libya, there are worries that gas prices will rise more. Those fears, even if fuel prices remain relatively stable, can put even more pressure on the price of more fuel-efficient cars.
"It's volatility that really drives people to smaller cars," said Bragman.