Union boss: Ford CEO's pay 'morally wrong'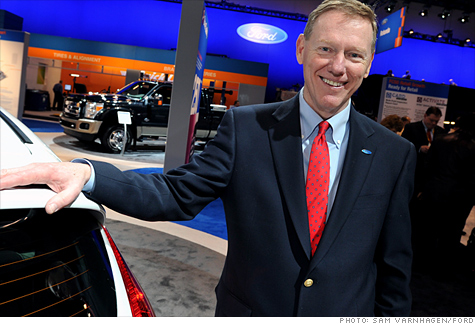 DETROIT (CNNMoney) -- Is Alan Mulally overpaid?
United Auto Workers President Bob King seems to think so. King went on the attack at the lucrative pay package of the Ford Motor CEO, saying it was "morally wrong" that Mulally received stock worth about $54.5 million from the company.
Mulally, who engineered the turnaround at the nation's No. 2 automaker, got 3.8 million shares of stock earlier this month for meeting performance goals set by the company two years ago, according to a company filing. His full compensation package has yet to be disclosed.
"I think Alan Mulally is a great CEO, but I don't think any human being in the world deserves that much money. I think it's outrageous," said King, speaking to reporters during a three-day union convention in Detroit. King's remarks come as the union prepares for the first set of labor negotiations with U.S. automakers since the bankruptcies at General Motors (GM) and Chrysler Group.
"I like Alan Mulally. But I just think it's morally wrong," said King, who assumed the leadership of the union last year. "It creates problems for Ford in both the salaried work force and the hourly work force. It seems like one individual is getting all of the gain."
King wouldn't get into details about the union's goals for upcoming negotiations, other than to say it wants to restore some of the concessions made during the crisis four years ago, along with other concessions it made in the intervening years. The current contracts with Ford, GM and Chrysler all expire Sept. 14.
Of the two-tier wage scale agreed to for new hires, King said the $14 an hour for entry-level workers is not enough to maintain a middle-class standard of living. But he added, "In fairness we don't want to make the companies we have a good relationship with uncompetitive in the market place."
Ford spokesman John Stoll said King's remarks will not impact upcoming labor talks on a new contracts for Ford's 40,600 UAW members.
"We have a history of working collaboratively together to find solutions to critical issues, and we look forward to our discussions with them later this year," said Stoll. "In terms of the comments made about compensation, Alan Mulally's leadership during 2010 has been widely recognized as extraordinary."
Mulally has been CEO of Ford since 2006, coming in when the company was generally seen as the weakest of the three U.S. automakers. Ford was the only U.S. automaker to avoid both a federal government bailout and a trip through bankruptcy in 2009.
The company earned $6.6 billion in 2010, its best result since 1999, and enough to pay UAW members at the company an average of $5,000 each in profit sharing bonuses.
Ford stock (F, Fortune 500) closed at $14.34 Tuesday, well above the low of $1.50 a share early in 2009, but down from its high of nearly $19 a share in January of this year.
Dave Cole, chairman emeritus of the Center for Automotive Research, a Michigan think tank, said he's not surprised by King's comments, and he doesn't think it's a sign of difficult labor negotiations ahead. He said attacking large pay packages is "business as usual.
"If he comes across too soft, he risks losing his membership," said Cole.
Last fall, Fortune readers chose Mulally as the businessperson of the year. And Ford recently beat out Apple as the favorite stock pick of CNNMoney readers.