RIM PlayBook tablet coming April 19 for $499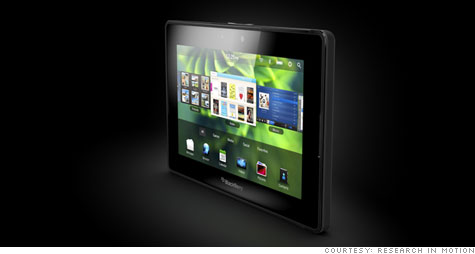 NEW YORK (CNNMoney) -- Research in Motion's PlayBook tablet will go on sale on April 19, starting at $499 -- the same price as its main rival, the Apple iPad.
RIM announced early Tuesday that the Blackberry PlayBook will be sold through several retailers, including AT&T, Sprint and Verizon. Best Buy said separately that it will start accepting pre-orders Tuesday.
The 16 gigabyte PlayBook will cost $499, a 32GB version is $599 and a 64GB is $699.
The PlayBook is smaller than the iPad, with a 7-inch screen. It's built around a new platform from QNX Software Systems, and it features Flash-capable video plus a front and rear high-definition camera. The PlayBook runs on a 1 GHz dual-core processor and includes 1 GB of RAM.
Each of the PlayBook models is Wi-Fi enabled, though they cannot connect to 3G without tethering to a BlackBerry. The tablet will be available in more than 20,000 retail outlets in the U.S. and Canada.
RIM is gunning for Apple (AAPL, Fortune 500), which sold 14.8 million iPads in 2010. But other competitors, like the Motorola Xoom, have popped up in 2011 -- a recent study says a whopping 102 tablets are slated for release this year.
One analyst predicts that the saturated market will be too much for RIM, which reports quarterly earnings Thursday.
"It's nice to see the PlayBook come out, but it would almost be better if RIM didn't have it," said Edward Snyder, managing director at Charter Equity Research.
"You want to think you'll be the winner, but everyone is under pressure to get into the market, so it's not an attractive business to grab share," Snyder added.
Snyder said "the chatter is positive" around the PlayBook, but he expects RIM will sell less than 500,000 tablets by mid-year. He thinks customers will turn instead to Android-based tablets like the Motorola Xoom, which take advantage of Google's updates to its operating system.
If RIM doesn't sell 1 million PlayBooks by the end of 2011, Snyder expects "investors will be soured on the whole tablet thing" and the stock could sell off moderately.
That said, Snyder expects RIM investors to continue focusing on the company's core smartphone business. RIM (RIMM) shares closed the trading session up 24 cents, or 0.39%.
Matthew Hoffman, analyst at Cowen & Co., said in a research note Tuesday that he was maintaining an "underperform" rating on RIM stock. Still, he called the PlayBook RIM's "most important new product in years."