Med students rush to primary care programs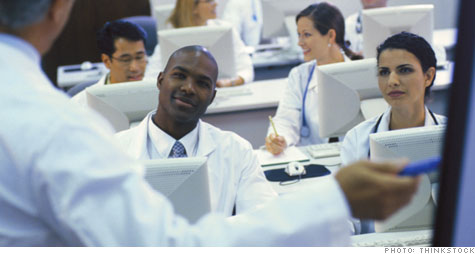 NEW YORK (CNNMoney) -- After years of being the black sheep of the medical profession, family medicine is becoming more attractive to med students. The reason -- health reform.
Every year in March, medical school students are matched up with a training program in a specialty they want to pursue.
This year, family medicine residency programs not only saw a record 94% enrollment rate, they also added an additional 100 slots to accommodate the increased demand.
"Health reform is largely responsible for this upswing," said Dr. Roland Goertz, president of the American Academy of Family Physicians.
Provisions in health reform, including measures to boost pay for primary care doctors caring for Medicaid patients, bonus payments to work in underserved areas and loan forgiveness, are encouraging students to pursue primary care.
"Health reform doesn't address all of our concerns but it has gotten students to think that primary care may not be so bad for their careers," he said.
This year, family medicine residency programs attracted 1,317 U.S. students -- 133 more than in 2010.
Goertz said the renewed interest in primary care among medical students is welcome and necessary at a time when the United States is suffering from a shortage pf primary care doctors.
"We've seen this shortage for the past 30 years," he said.
If the shortage continues, by 2020 the health care system will be 40,000 primary care doctors short.
Medical students have been shunning family medicine because specialists make considerably higher salaries.
Goertz said the difference in salaries has tripled in the last 20 years. "It used to be about a $50,000 difference. Now it's closer to $150,000," he said.
Primary care physicians, on average make about $150,000. Among non-primary care specialists, cardiologists on average earn $402,000, dermatologists about $375,000 and emergency medicine specialists about $267,000.
"You can't blame students for not opting for primary care when they carry about $160,000 in debt after they leave school," said Goertz.