Time for Verizon to buy Sprint?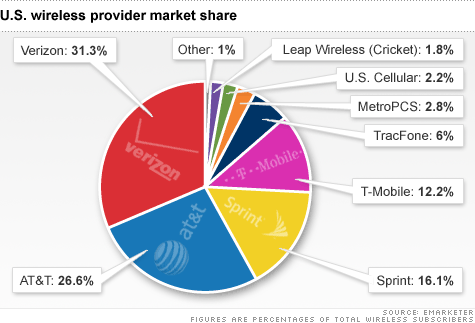 NEW YORK (CNNMoney) -- With AT&T dealing for prized asset T-Mobile, Sprint's options may be down to two: buy everything smaller than it or get bought by Verizon.
Sprint (S, Fortune 500) will be a distant third in the U.S. wireless industry if the AT&T/T-Mobile merger goes through. The carrier would control just 16% of the market, while AT&T (T, Fortune 500) and Verizon (VZ, Fortune 500) would own more than 70% of it.
"I do have concerns that it would stifle innovation and that too much power would be in the hands of two [companies]," Sprint CEO Dan Hesse said Tuesday at a panel discussion at the CTIA Wireless Conference in Orlando.
The problem for Sprint is that scale brings wireless companies a fierce competitive edge. Size gives carriers the ability to negotiate deals for the best handsets and the revenue needed to support the tremendous costs of building out and improving a network.
In other words, the U.S. wireless space is shaping up to be like the cola market: There's Verizon and AT&T as Coke (KO, Fortune 500) and Pepsi (PEP, Fortune 500). Then there's Sprint trying to make it as R.C. Cola.
Created through the 2005 merger of two rivals with separate network technologies, Sprint Nextel has been running in the red ever since. Its annual loss last year widened to $3.5 billion. In its latest annual report, Sprint warned that if it doesn't hit its turnaround goals, it could have trouble meeting its debt-repayment obligations.
The company has gained momentum in recent months by holding onto its customers and by improving its handset lineup and customer service. But some analysts said those small gains will be the equivalent of bringing a knife to a gunfight should AT&T merge with T-Mobile.
"This is a very worrisome development for Sprint," said Dan Hays, a partner with PRTM, which consults with the telecom industry. "The most attractive option is for Verizon to decide that an acquisition is now viable."
Despite network similarities (both use the CDMA standard), and Sprint's clear need for a better 4G solution than its failed Clearwire/WiMAX experiment, Verizon hasn't yet gone after Sprint. One reason is that, with a market cap of $15 billion (well, $14 billion after Monday's stock drubbing), Sprint wouldn't exactly come cheap.
But Sprint may soon be appearing in the clearance bin: It was widely rumored to have been considering a deal for T-Mobile before AT&T swooped in. Now that the T-Mobile option is gone and one of its chief rivals will be that much tougher to beat, Sprint may be scrambling for a partner.
Would Verizon want Sprint? The top boss says no.
"We're not interested in Sprint. We don't need them," Verizon Wireless CEO Daniel Mead told Reuters at the start of the CTIA Wireless Conference. The company declined to comment for this story.
But Sprint has a few glittery jewels Verizon may find it hard to ignore. A deal would give it 50 million more subscribers -- enough to leapfrog an AT&T/T-Mobile pairing. Sprint is also sitting on a mountain of wireless spectrum, which is a crucial asset in building up capacity for the coming onslaught of mobile data demands.
Of course, any deal would have to be a long way off. AT&T and T-Mobile face significant regulatory hurdles -- so imagine what would happen if the industry also tried for another, bigger consolidation.
"It's hard to see regulators letting the U.S. wireless industry go from three to two unless Sprint files for bankruptcy," said Philip Redman, analyst with Gartner.
And Verizon may really, truly not be interested.
"I'm not convinced that Verizon will be that reactive," Hays said. "With 100 million subscribers, it's no slouch. Verizon doesn't have a pressing need for a 4G solution, and it may be satisfied to just hang tight and let its biggest competitor be distracted by a complicated merger."
If Verizon isn't an option, another white knight may present itself to Sprint. Remember, it's not just U.S. carriers that are interested in the U.S. wireless market. Verizon is half-owned by Europe's Vodafone, and T-Mobile is owned by Germany's Deutsche Telekom. Some in the industry predict that a Canadian or European telecom company could take a serious look at Sprint pending the AT&T/T-Mobile deal's approval.
"In an environment where subscribership is a key asset, nothing is ever off a strategist's board," said Rich Nespola, CEO of TMNG Global, a telecom consultancy of which Sprint is a client. "Looking at domestic carriers as the only potential buyers of Sprint is myopic."
Barring a takeover, Sprint may instead look to do some taking over itself. In desperate need of a legitimate 4G solution, it could partner with or buy outright wholesale 4G carrier LightSquared. Or it may go after some smaller regional carriers like MetroPCS (PCS), Leap Wireless (LEAP), nTelos or U.S. Cellular.
"Sprint will clearly have to make some major moves to stay competitive if the AT&T-T-Mobile deal is approved," said Brent Iadarola, global research director for Frost & Sullivan. "Most likely, they will start looking to aggressively acquire tier 2 and tier 3 operators."
But Iadarola cautioned that those deals won't be so simple to make: Shares of regional carriers have soared since AT&T's announcement, under the expectation that a bigger rival will seek them out. One of those bigger rivals may be Verizon, which will surely be eyeballing many of the same acquisition prospects as Sprint.
A third option would be for Sprint to just stay the course. Though few analysts think that's viable, some say Sprint could position itself as a low-cost, value wireless provider filling the niche that T-Mobile currently occupies.
"The rumor of Sprint's demise is premature," Nespola said. "Is it good news for them? No. The task will be harder, but doesn't mean they won't score points. They'll have to be far more nimble, but they don't have to do anything drastic."