Oil - near $106 and rising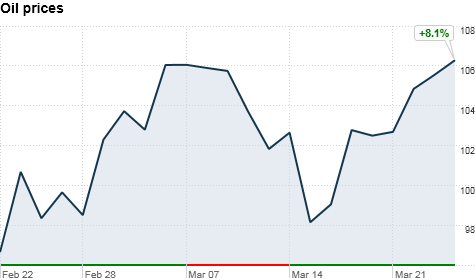 NEW YORK (CNNMoney) -- Crude oil prices moved above $106 a barrel again Thursday before retreating, as a confluence of war, natural disasters and Japan's nuclear problems unnerved investors.
The benchmark U.S. contract, West Texas Intermediate, dropped 15 cents, or 0.55%, to settle at $105.60 a barrel for May delivery. In early trading, the price peaked at $106.69.
Brent crude, pegged to oil prices in the North Sea, rose 4 cents to $115.59.
U.S. oil prices have surged more than 20% since mid-February, when pro-democracy movements reached Libya, Africa's third-largest oil producer.
Libya is just the start of the worries. A bomb exploded on a Jerusalem bus Wednesday. Escalating violence between Syrian security forces and anti-government protesters left 15 dead. The governments of Bahrain, Tunisia, Yemen and Egypt are all in various stages of disarray. Portugal's debt crisis continues unabated.
"The truth is we have very strong fundamental justification for where the price of oil is at and where it is probably going," Phil Flynn, senior market analyst at PFG Best, wrote in a research note.
Prices could be going much higher.
If all oil production ceased in Libya, Bahrain and Yemen, oil prices could rise to $125 a barrel, according to Moody's Analytics economist Chris Lafakis. If Iran reduced production by 50%, prices could rise to $150.
One mitigating factor is the reduced demand in Japan after the twin natural disasters that rocked the country earlier this month.
With business shuttered and manufacturing plants closed, the country is using less oil. For the moment, that's actually a helpful phenomenon for world oil markets struggling with reduced exports from Libya.
For Japan, the temporary drop in demand coincides with a diminished refining capacity. The earthquake and tsunami damaged a number of Japanese oil refineries, sparking concerns about whether Japan would need to import refined products.
But the refineries are starting to open. ExxonMobil (XOM, Fortune 500) said Wednesday that it had restarted all of its Japanese refineries for the first time since the March 11 quake.
Three of the four refineries operated by Cosmo Oil are online, and ramping up production. However, the company's largest refinery, located north of Tokyo in Chiba, is still offline.
In the longer term, experts expect Japanese demand for oil to spike as the country starts reconstruction efforts, especially with a nuclear capacity reduced by the quake damage at the Fukushima plant.