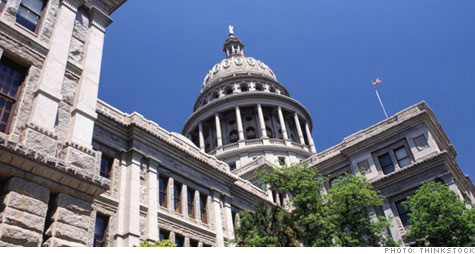 Texas lawmakers are debating budget cuts that could cost more than 335,000 jobs.
NEW YORK (CNNMoney) -- Texas could see 335,000 jobs disappear over the next two years if lawmakers adopt the $83.8 billion budget that will go before the state House late next week, according to a state agency. (See correction, below).
Harsh spending cuts in the budget could cost more than 146,000 private sector jobs and 189,000 government jobs, according to estimates released Wednesday by the Legislative Budget Board, a bipartisan committee.
This projection, which is based on mathematical calculations, runs counter to the pro-job push underway by Gov. Rick Perry and Republican lawmakers.
The budget slashes spending by nearly $23 billion, or 12.3%. The drop reflects the loss of federal stimulus money, but it also includes a $4.5 billion cut in state spending. Education, social service agencies and public health providers would see major funding decreases.
Democrats immediately pounced on the report, using it to argue that lawmakers should tap the state's rainy day fund and take other steps to save the jobs.
"The voters did not elect us to eliminate hundreds of thousands of jobs," said Rep. Mike Villarreal, a Democrat who requested the report. "We can't grow the Texas economy with a budget that destroys jobs, hurts neighborhood schools and makes college more expensive."
Perry, a Republican, said the government must cultivate a favorable climate for job creation. That includes balancing the budget without raising taxes.
"Gov. Perry firmly believes that government doesn't create jobs: entrepreneurs in the private sector do," said Katherine Cesinger, his press secretary. "We must remain committed to the fiscal principles that have helped us add more jobs than any other state in 2010, as well as lead the nation in job creation over the last decade."
House Speaker Joe Straus said he questions the assumption that cutting spending to balance the budget will hurt the economy.
"The best way to jump-start growth is for the legislature to keep taxes low and regulations reasonable to provide the opportunity for business to grow and thrive in Texas," he said.
Republican lawmakers and the governor, who has pressed for even deeper cuts as a way to jumpstart the Texas economy, recently agreed to tap up to $3.2 billion of the Rainy Day fund, which exceeds $9 billion, to close part of the state's budget deficit.
Correction: The original version of this story incorrectly reported that 600,000 Texas jobs could be in jeopardy.