White House, taxes and the CEO who shall not be named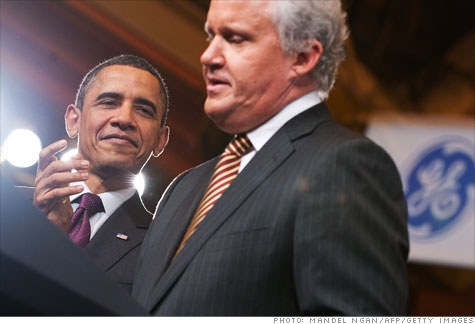 NEW YORK (CNNMoney) -- The Obama administration has been talking about corporate tax reform a lot lately. And so it was on Friday -- but not through prepared bullet points.
Reporters peppered White House Press Secretary Jay Carney with questions about a story in the New York Times detailing the efforts of General Electric to avoid paying taxes.
At issue: GE chief executive Jeff Immelt's side job as head of Obama's innovation and jobs council.
Corporations typically face a 35% federal income tax, but many end up never paying that amount.
One aim of tax reform is to lower the corporate tax rate while greatly scaling back tax breaks and loopholes that allow many corporations to pay less in tax.
Thanks to its deductions, adjustments and offshore profit centers, GE (GE, Fortune 500) has paid a rate of exactly zero for two consecutive years. (Read CNNMoney's 2010 report on GE's tax rate)
The Times hit the story hard on its front page Friday morning.
Obama has repeatedly expressed a desire to fix the corporate tax code. In January, he called for tax reform in his State of the Union address, just a few days after he chose Immelt to head an economic advisory council.
On Friday, Carney didn't want to talk about GE.
"I don't know about this specific company's balance sheet or its tax returns," he said. "I've read the story. I'm saying I don't have my own assessment to make of it."
Carney reiterated Obama's commitment to reform, but made clear he was not referring specifically to GE. "Again, not addressing this specific company because I don't know independently about that," he said.
General Electric's tax strategy is a perfectly legal thing for a corporation to do -- and it has been widely reported on. A spokeswoman for GE stressed that the company expects its tax rate to increase this year and that GE "pays what it owes under the law."
The White House did not respond to CNNMoney's request for comment.
Later in the press conference, Carney was asked whether Obama still had confidence in Immelt's ability to run the jobs council.
"Yes, he does," said Carney, who maintained Obama will continue to press for corporate tax code reform.
"In the end, the decisions that are made about which policy to pursue on corporate tax reform will be the president's decision and his policy," Carney said. "He very much wants to take on this issue."