Fed's Hoenig to retire in October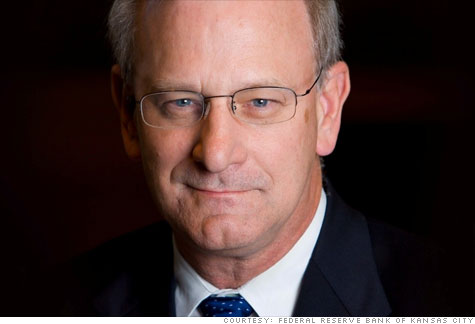 NEW YORK (CNNMoney) -- Time is almost up for one of the Federal Reserve's most candid inflation hawks. Kansas City Fed President Thomas Hoenig is retiring October 1.
While retirement was imminent because of Hoenig's age, the Fed officially announced his departure Friday morning. Fed presidents are subject to mandatory retirement once they reach 65 years old.
The regional bank has formed a committee to select Hoenig's successor.
Hoenig is known for being the Fed's lone dissenter last year, after he opposed the Fed's historically low interest rates at all eight Federal Open Market Committee meetings in 2010.
He has recently opposed the Fed's controversial policy of stimulating the economy through $600 billion in Treasury purchases, known as quantitative easing, and called for a hike in interest rates.
In his outspokenness, Hoenig has often invoked the Fed's famous "punch bowl" line, referring to a need to raise interest rates as the economy improves and before inflation and asset bubbles take hold.
"I really want to take away the punch bowl before the room gets drunk, because this punch is -- I think -- a little bit spiked," Hoenig said at the Council on Foreign Relations earlier this month.
Hoenig joined the Kansas City Fed as an economist in 1973. He was promoted to vice president in 1986 and president in 1991.