Wells Fargo, Chase, SunTrust cancel debit rewards program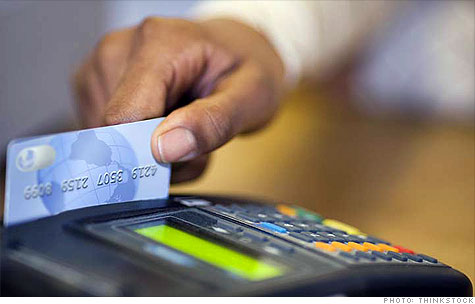 NEW YORK (CNNMoney) -- Debit card rewards programs are vanishing at several major banks.
Wells Fargo said Friday that it will no longer offer its debit rewards program for new customers. This will go into effect March 27 at Wachovia and April 15 at Wells Fargo (WFC, Fortune 500), while existing customers will remain unaffected for the time being.
JPMorgan Chase (JPM, Fortune 500) notified existing customers last week that their debit rewards programs will disappear July 19. The bank eliminated debit rewards for new customers in February.
Citi (C, Fortune 500) hasn't made any changes yet, but said it is "in the process of evaluating potential changes to our rewards programs."
SunTrust (STI, Fortune 500), a large regional bank, has also followed suit. The bank will no longer award points to customers beginning April 15, and the points that existing customers have racked up will expire Jan. 1, 2012.
Debit rewards are awarded to customers for actions like spending, carrying high balances and making minimum deposits. Customers can then redeem the points they collect for cash or gift cards or even electronics.
And these rewards programs are the newest target in the heated battle between banks and the Federal Reserve over a proposed rule that would limit "swipe fees" -- or the amount retailers must pay the bank every time customers use their debit cards.
Financial institutions have already hiked ATM fees and threatened to impose debit card spending limits in response to the Fed's proposed cap, claiming that they are now forced to find revenue in other areas.
So axing debit rewards programs is just one more way banks are hoping to recoup revenue they expect to lose. Or, they may be hoping to get consumers so riled up that the Fed thinks twice about imposing the new rules, said Curtis Arnold, founder of CardRatings.com.
"Debit rewards are so popular with customers and these days it's something they expect to see when they sign up for a debit card, so they risk losing customers and won't have the same customer loyalty," said Arnold. "Maybe what they're hoping will happen is there will be a consumer backlash that results in changes to the regulation, so that scrapping debit rewards can just be a temporary thing."
But until the Fed surrenders, Arnold said consumers are likely to see more banks slash debit rewards altogether or trim down the rewards they offer.
"The industry typically has a monkey see, monkey do mentality, so now that two major issuers have announced it, I can't help but think we'll see the others follow suit," said Arnold.
Representatives at Bank of America (BAC, Fortune 500) and TD Bank said no changes have been made to their debit rewards programs yet.
U.S. Bank (USB, Fortune 500) and PNC Bank (PNC, Fortune 500) representatives did not respond to requests for comment.