Oil slips, but gas keeps climbing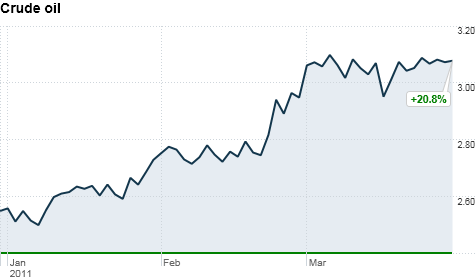 NEW YORK (CNNMoney) -- Oil prices came under pressure Monday, tumbling below $104 a barrel, but gasoline prices continued to move higher nationwide.
The main U.S. oil futures contract, West Texas Intermediate, for May delivery dropped $1.42 to settle at $103.98 a barrel. Brent crude, the European benchmark, fell 92 cents to $114.87 a barrel.
Gasoline prices, however, rose Monday for the sixth day in a row. The national average price for a gallon of regular gas edged up six tenths of a cent overnight to $3.584, according to motorist group AAA.
The national average gas price has increased nearly 4 cents over the last six days, and prices are up more than 51 cents since the start of the year. Gas prices have risen sharply as prices for crude oil, the main ingredient in gasoline, have surged firmly above $100 a barrel on supply concerns stemming from the volatile political shifts in the Arab world.
Oil prices rose near the top of a recent range last week, climbing above $106 a barrel on Thursday, amid escalating tensions in the Middle East and uncertainty surrounding Japan's nuclear crisis.
But prices were lower Monday as the U.S. dollar strengthened and Libyan opposition fighters regained ground following coalition airstrikes on forces loyal to Moammar Gadhafi.
The opposition in Libya appeared to have taken control of the key oil town of al-Brega on Monday, raising speculation that exports from Africa's third largest crude exporter could resume soon.
A spokesman said over the weekend that the opposition plans to begin exporting oil "in less than a week," according to published reports.
Ali Tarhoni, the rebel representative responsible for economy, finance and oil, told reporters at a press conference that Libya could "easily" increase oil production to 300,000 barrels per day, from current levels between 100,000 to 130,000 barrels per day.
The civil war in Libya has severely curtailed oil exports from the North African nation, which produced some 1.6 million barrels per day last year.
But investors are also concerned about increasingly violent anti-government movements in Yemen, Bahrain and now Syria. The worry is that more oil production could be lost if those nations follow the same trajectory as Libya.
Meanwhile, the U.S. dollar rose against the euro after the party of German Chancellor Angela Merkel suffered losses in a regional election. The greenback also strengthened against the British pound and Japanese yen.
A stronger dollar often pressures prices for commodities that are priced in the U.S. currency, such as crude oil.
"Crude oil prices slid slightly lower, in a correction, receiving some pressure from a strong U.S. dollar," said Myrto Sokou, an analyst at Sucden Financial. "However, ongoing political unrest in Libya, Syria, Yemen and Bahrain continue to provide some support to crude oil prices."
-- The CNN Wire Service contributed to this report.