What you won't see in New York's budget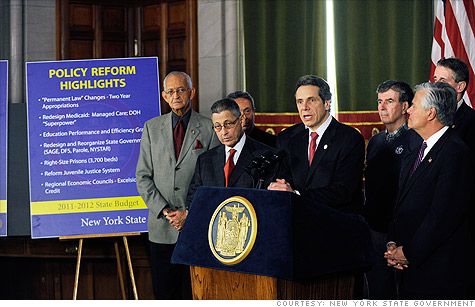 NEW YORK (CNNMoney) -- Governor Andrew Cuomo and New York's top legislators worked through the weekend to hammer out what they hope will be the state's first on-time budget in five years.
After weeks of behind-closed-door debates, Cuomo and legislative leaders agreed to a $132.5 billion budget that cuts spending but doesn't add new taxes. The legislature has until March 31 to officially vote the budget into law.
Even critics hailed the agreement a remarkable accomplishment, given New York's long history of delaying budget decisions. Since 1990, only three budgets have been on time.
Yet, even though the budget in its current form would eliminate a $10 billion deficit, it still fails to address many of the issues near and dear to New Yorkers' hearts, including reforms on property taxes, rent control and teacher layoffs.
"Cuomo and the legislative leaders decided that a budget that was on time was so important, they took all the non-budget issues that are contentious out of the discussion," said Carol Kellermann, president of the Citizens Budget Commission. "They'll all now become hotly debated issues in the session."
Cuomo essentially got what he wanted by limiting increases in the state's two biggest expenses, education and Medicaid, without having to add new taxes. But here are some of the biggest hot-button issues the budget doesn't address.
Property tax cap and rent rules: At the heart of his 2010 campaign, Cuomo ran a series of tv commercials calling for a cap on property tax increases at 2% or the rate of inflation -- whichever is lower.
But last week, Cuomo warned reporters that "some people feel it's too complicated to add into the budget at this time."
So the measure did not make its way into the budget agreement announced Sunday.
But critics fear that caps on education and Medicaid spending, without limits on property taxes, put localities in a nearly impossible position.
"The cap on aid to schools and Medicaid will force local communities to be in the position of raising more income to fund those programs -- which means that they will be forced to increase property taxes," said Carole Kraus, co-founder of the New York State Property Tax Reform Coalition.
Republicans in the Senate have already approved a property tax cap, but the bill has run up against opposition from Democrats, who are pushing for stricter rent-control rules to be tied to the bill.
Rent-control regulations are set to expire in June, giving landlords in New York City the ability to raise rents to market levels for new leases. Democrats are intensely pushing for the rules to be extended, but Republicans oppose the measure.
Millionaire's tax: In an effort to limit cuts to New York schools and Medicaid, Democrats have pushed for the extension of the so-called millionaire's tax, taxing filers who make $200,000 or more a year.
The tax, which they claim raises up to $5.3 billion a year, is set to expire in December. But Senate Republicans have pushed back against extending the tax. Meanwhile, Cuomo has staunchly opposed adding any new taxes to the budget.
But critics argue, this tax was already on the books.
"Extending an existing tax does not constitute a new tax," said Ron Deutsch, executive director of New Yorkers for Fiscal Fairness. "To say the least, I was disappointed that this budget caters to the needs of the top 2% of New Yorkers, while cutting services and programs for the bottom 98%."
But while it didn't make it into the current budget, the millionaire's tax debate is expected to rage on. Sen. John Bonacic, a Republican from Hudson Valley, has argued for extending the tax, but limiting it to filers making $1 million or more each year.
Union contracts: Cuomo is pushing for $450 million in concessions from union employees, but he has yet to reach an agreement with the unions. He has repeatedly threatened to fire 9,800 employees if they don't agree to the cuts, but hopes to minimize the number of layoffs through negotiations.
Teacher seniority rules: New York City Mayor Michael Bloomberg has fiercely advocated for the state to do away with teacher seniority rules, which protect the longest serving teachers from layoffs. Instead, he wants layoff decisions to be made based on merit.
The state Senate passed such a bill earlier this month, but Assembly Democrats have since blocked it to consider alternative education reforms proposed by Cuomo instead.
Medical malpractice cap: Cuomo initially proposed limiting the amount of damages doctors and hospitals would be required to pay for "pain and suffering" malpractice claims to $250,000.
But after some Democratic lawmakers wanted to scrap the proposal, it didn't end up making it into the agreement reached over the weekend.