The Ferraro-Corman connection: Brought together by a killer disease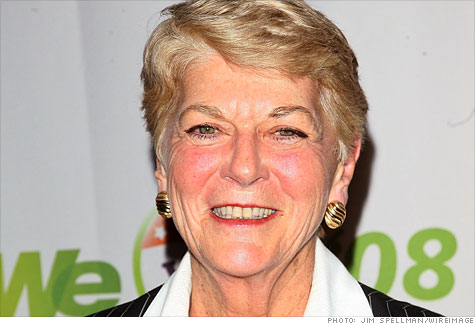 FORTUNE -- Former vice presidential candidate Geraldine Ferraro, who died on Saturday at age 75 of the incurable blood cancer called multiple myeloma, and Richard J. "Rick" Corman, 55, whom FORTUNE profiled in its March 21 issue, knew each other because they had met at Dana-Farber Cancer Institute in Boston, where both were fighting this killer disease. They in fact had the same set of doctors, Kenneth Anderson, director of the institute's multiple-myeloma practice, and his colleague, Paul Richardson.
A fan of both Geraldine Ferraro and her husband, John, Corman yesterday recalled her speaking skills and how effectively she turned her talents to being a fundraiser for multiple myeloma.
She survived a remarkable 13 years after being diagnosed with the disease in 1998. She had been lucky to first have what is called smoldering myeloma, a condition that, as its name suggests, is more of a latent threat -- almost like a state of clinical remission, says Corman -- than a raging form of the disease.
Reached yesterday, Dana-Farber's Dr. Anderson, who treated Ferraro from the beginning, recalled how she had indeed at first needed no therapy, and then was required by the mounting severity of her disease to move into conventional and high-dose therapy, which included a bone-marrow transplant.
She meanwhile benefited, Anderson said, from advances in therapy and "novel treatments" that Ferraro herself helped bring into being by going public with the fact that she had multiple myeloma. "Her support and inspiration," said the doctor, "really helped to fund and bring these treatments to approval and availability for patients everywhere."
Dr. Anderson spoke of his deep affection for Ferraro and his admiration for her efforts to help other women at Dana-Farber, "both patients and caregivers," he said. Even when she was very ill, he said, she was always selflessly reaching out to other patients, trying to make sure they had the proper awareness of, and access to, the right care.
"She was a hero of mine in many ways," said Anderson. Speaking of Ferraro's 1983 vice presidential run, the first ever for a woman, he said that "changed the world forever." And then, said Anderson, he saw personally how she was an outstanding wife, mother, and grandmother. The Ferraros, who have two daughters and a son, celebrated their 50th wedding anniversary last year.
Rick Corman, who is a 10-year survivor of multiple myeloma, recalled that he joked with Ferraro some years ago about the fact that, if they were to die, it would be good to do it in 2010 -- a peculiar year in which, by law, there was no estate tax. Corman said that Ferraro replied that with the disease they had, you couldn't be sure of getting to 2010. But, he remembers her adding, "it sure would be good to screw the government out of the tax."
That's perhaps heresy for a onetime Democratic candidate for high office. But Corman doesn't think she was interested in aiming for 2010 anyway if she could possibly get to 2011 -- which, of course, is what she did. "I think she wanted to have every day she could," Corman said.
Indeed, Dr. Anderson said yesterday that in his last conversation with her, the day before she died, she said, "Thanks for the last 13 years."