Muni bonds headed for worst quarter in 10 years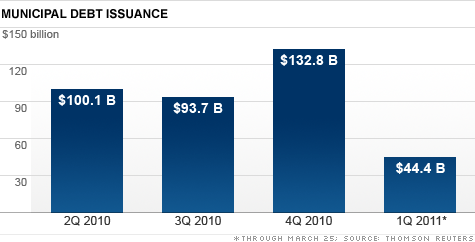 NEW YORK (CNNMoney) -- The municipal bond market is headed for its worst quarter in a decade, as investors fear cash-strapped states and cities across the country are on the brink of default, and local governments slow debt issuance.
Only $44.4 billion worth of muni bonds have been issued in the first quarter so far. That's the lowest level since the first quarter of 2000, when $39.1 billion was issued, according to data from Thomson Reuters.
Part of the drop in issuance comes as investor demand cools amid worries that municipalities may not be able to get their books in order. And that would leave investors holding the bag, so to speak.
Another reason for the low level of issuance so far this year is because municipalities issued piles of debt at the end of 2010. And that limited the need to issue more debt this quarter, said Burt Mulford of Eagle Asset Management.
"Some issuers knew they would get some taxes waived if they did it before the year end," said Mulford. "Rates were relatively low so they rushed to issue that debt at these lower rates before the investing community became really nervous."
And now the investing community is really nervous, leaving the market further depressed when it comes to both demand and issuance.
In fact, California, the nation's top debt issuer, recently announced that it may not issue debt this calendar year because of its budget crunch.
"There's a lot of pressure on state and local governments to not increase debt burdens, so they have ceilings on their net interest costs -- and if they've maxed that out, they're not going issue more debt," said Mulford.
Time to hunt for bargains: What's bad news for some, is a great buying opportunity for others.
The rush out of muni bonds in the last few months has largely been an overreaction, said Mulford, adding that out of the $3 trillion muni bond market, only $8.9 billion muni bonds are defaulted. And of the $8.9 billion that are defaulted, 85% of them are non-rated issues, which are the riskiest of the asset classes.
So while Mulford recommends staying away from non-rated muni bonds, investment grade bonds are currently great bargains "because of their relative value and the fact that prices have been depressed over the last few months."
"Many investors have a rear view mirror mentality," said Mulford. "They look at asset classes from the previous year and buy one that is outperforming, so we've seen a reallocation from tax-free muni bonds into stocks just when you should be buying the underperforming asset class, which is munis."
As with any investment, Mulford recommends doing your homework about the economic situation of any municipality you're considering.
"You need to understand the revenue source of the municipality, look at pension obligations, and especially foreclosure rates, because the bonds are tied to property taxes -- so if there are a lot of foreclosures, taxes decrease and that will prevent the municipality for paying for services," he said.
That means if you want to buy California muni bonds, pick a city with a lower foreclosure rate like Palo Alto instead of San Bernardino.
In addition to foreclosure rates, the wealth of a city boosts a muni bond's safety. For example if you're looking at buying a New York muni, you should probably go with Westchester county over Buffalo, said Mulford.
"Typically if you buy munis from an area with a lot of wealth you're going to be safer than if you go into an area with a lot of poverty because the tax base is greater," he said. "You'll sacrifice some yield, but in this type of market we would rather sacrifice a little yield to protect our principal."
Because muni bonds are tax free, this is an especially good time to invest if you expect tax rates to go up in the near future.
"When tax rates go up, which I would say is likely in 2013, that's going to really raise demand for munis," he said. "So if you have any expectation that tax rates are going to go up, now is when you should be getting some munis."
And you better hurry up: Mulford expects this window of opportunity to close in the next few months.
"I think the economy has reached its low and is only going to get better and enhance the municipalities' ability to cover the costs of their services," said Mulford. "But the buying opportunity is probably only going to last a few more months -- as soon as issuance picks up, prices are going to go up."