Bank bailout turns a profit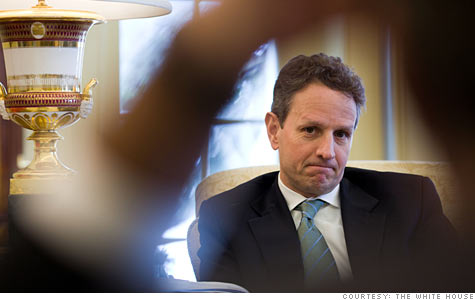 NEW YORK (CNNMoney) -- Don't look now, but the bank bailout is starting to turn a profit.
The Treasury Department announced Wednesday that the money it gave to banks during the financial crisis has been paid back, and then some.
The bank bailout -- part of the Troubled Asset Relief Program -- is now $6 billion in the black, a profit that might ultimately rise to $20 billion, according to the Treasury.
And that's nice. But if you look at the whole program, there are still some trouble spots, and not everyone is happy.
"We still have more work to do repairing the damage caused by the crisis and strengthening the recovery, but today is an important milestone in our efforts to recover taxpayer dollars as we continue winding down TARP," Treasury Secretary Tim Geithner said in a statement.
For a long time, TARP was the albatross around Treasury's neck. It authorized the department to spend up to $700 billion to stabilize financial markets through the purchase of "troubled assets."
And that's just what Treasury did, spending a total of $432 billion dollars to help banks, the domestic auto industry, AIG (AIG, Fortune 500), and fund grants aimed at avoiding foreclosures.
And while some of the biggest banks are now flourishing, critics are slamming Treasury for falling down on part of its broader mission -- helping Main Street.
"These Main Street-oriented goals were not, as the Treasury Department is now suggesting, mere window dressing that needed only to be taken 'into account,' " Neil Barofsky, the program's former special inspector general, wrote in a New York Times op-ed.
Barofsky specifically laments the attention paid to the big banks, while mortgage modifications were all but ignored. A program -- the Home Affordable Modification Program -- was put in place in February 2009, but has not been particularly successful.
"That program has been a colossal failure," Barofsky wrote. "As the program flounders, foreclosures continue to mount, with 8 million to 13 million filings forecast over the program's lifetime."
On Tuesday, the Republican-controlled House voted to kill the program.
And Treasury acknowledges the housing market is still difficult.
"Housing is an area where there is still much work to be done," Acting Assistant Secretary Timothy Massad told Congress on Wednesday. "It should be remembered that the forces that created this housing crisis had been building for nearly a decade."
There is also the issue of cost. According to the latest estimate of the nonpartisan Congressional Budget Office, TARP -- the whole program -- will ultimately cost taxpayers $19 billion, mostly due to losses from assistance to AIG, the auto industry and HAMP.
Still, that number is far lower than anticipated by most analysts -- including CBO, which initially estimated that TARP would lose hundreds of billions of dollars. Treasury has displayed a stellar track record thus far in recouping taxpayer funds, but there are a few problem areas.
CBO estimates that the roughly $80 billion auto bailout will end up costing taxpayers $14 billion. And HAMP, which is a grants program and was never expected to return a profit to taxpayers, will eventually cost $13 billion.