Google chooses Kansas City for ultra-fast Internet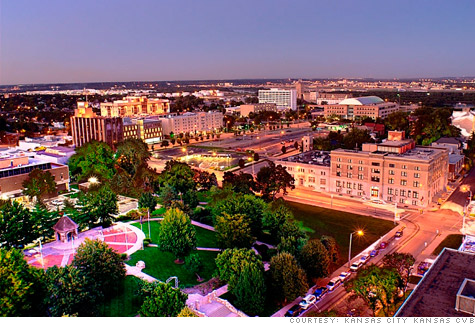 NEW YORK (CNNMoney) -- The year-long wait is over: Google announced Wednesday that it has chosen to deploy its ultra-fast broadband network in Kansas City, Kansas.
Google (GOOG, Fortune 500) will provide broadband Internet access to the city with speeds of about 1 gigabit per second. That's around 100 times faster than what most Americans have available to them today. Google said that the network's speed would be fast enough to download a high-definition, full-length feature film in less than five minutes.
The decision follows Google's March 2010 announcement that it would build and test-drive a new, high-speed fiber-optic network in a U.S. community. Nearly 1,100 cities applied, with some going to great lengths to try to influence Google's choice. Topeka, Kansas, even renamed the city "Google" for a day, which Google later poked fun at in an April Fools gag.
In a blog post, the search giant thanked all the various communities for their interest, but said it chose Kansas City after "a careful review." Google said that it was looking for a city where it could "build efficiently, make an impact on the community and develop relationships with local government and community organizations."
Kansas City has a relatively small population of about 150,000, which may have influenced Google's decision.
The company said it has signed a development agreement with the city and will work with local organizations, companies and universities to build out the network. Google expects the service to go live early next year.
Google said the network would offer wire-line service directly to consumers' homes at "a competitive price." The network will be built by Google, but consumers will be able to choose their service provider.
The goal of the project, according to the company, is to "make the Web better for users." Google's view is that faster Internet speeds have always led to new platforms, innovations and businesses. For instance, YouTube, iTunes and Skype would not have taken off had most of America not upgraded from dial-up connections.
America's average download speed of 4 megabits per second ranks 15th in the world, according to the Information Technology Industry Council. President Obama and the Federal Communications Commission have long advocated for faster speeds to increase the country's global competitiveness.
And if you're bummed out that your community wasn't chosen, Google offered this little ray of hope: "We'll also be looking closely at ways to bring ultra high-speed Internet to other cities across the country."