Why Pimco cut its bond holdings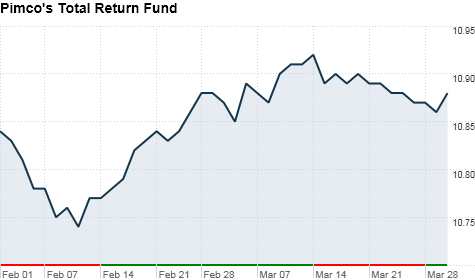 NEW YORK (CNNMoney) -- When news broke that Pimco's Total Return Fund (PTTRX) had slashed its U.S. Treasury holdings to zero, investors were left wondering why the world's biggest bond fund would bail out of the safe haven.
"Everything you buy and hold must have value," said Pimco CEO Mohamed El-Erian at a market outlook event hosted by Thomson Reuters Thursday. "In our estimation there was better value elsewhere."
In just two months time, Pimco cut its exposure to U.S. government debt to zero. "When we looked at what was available, there were Treasury-like instruments that had better value," said El-Erian.
Another reason behind Pimco's decision to remain on the sidelines of the U.S. Treasury market is the uncertainty about where prices will head once the Federal Reserve winds down QE2 in June.
The Fed has been the biggest buyer under the program, aimed at driving down interest rates to spur spending. El-Erian said it's unclear who will fill that role.
"There will be lots of buyers at cheaper prices," he said. But without a clear buyer to step into the Fed's shoes, El-Erian said it was better to stay away. "When Treasuries reprice, we'll look at that," he said.
When asked what would be a fair price for, say, the 10-year note, El-Erian would only say, "lower than it is now." The price on the 10-year is sitting at around $101 and change, with a yield of 3.4%.
Earlier this month, Pimco founder Bill Gross said a 4% yield is generally within the realm of what the company is targeting.
As for the likelihood of a QE3? Doubtful, says El-Erian. "QE1 was totally justified. It was about normalizing markets," he said, adding that the Fed may have thought twice about QE2 if they had known there would be a "fiscal agreement on another stimulus" in the form of payroll and other tax breaks.