Could frozen Libyan assets pay for the war?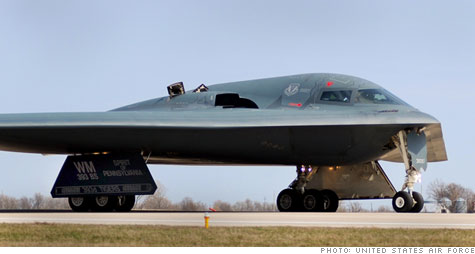 NEW YORK (CNNMoney) -- In late February, President Obama issued an executive order that froze Libyan government assets worth at least $30 billion.
One month later, the U.S. is engaged in a conflict that will wind up costing billions. And budgets are obviously tight. So could the government use some of that Libyan money to pay for the war?
Some on Capitol Hill think so. Rep. Brad Sherman, a California Democrat, said Thursday that assets seized from Libya and Gadhafi should be used immediately to pay for the war effort.
But not so fast. The U.S. didn't really "seize" Libyan assets. Instead, the executive order issued by Obama froze the funds in their current accounts.
"Title - or ownership - of those assets remain with Gadhafi, his sons, or the government of Libya," said Hal Eren, a D.C.-based attorney who spent eight years at the U.S. Treasury Department's Office of Foreign Assets Control.
"In order to use those assets [to pay for the war], the government would have to have the consent of the owner," Eren said. "Which is probably unlikely given the circumstances."
So for now at least, these assets are just sitting in U.S. banks, earning interest.
"Treasury hits a button and everything is frozen," according to Erich Ferrari, the founder of Ferrari Legal, a firm that specializes in trade sanctions.
Not much is publicly known about the make-up of Libyan assets in the U.S. A secret diplomatic cable released by WikiLeaks suggests that Libyan officials had spread around $32 billion in assets to different U.S. banks in $300-$500 million chunks.
"It's a pain in the neck for banks," Ferrari said. "You have blocked accounts just sitting there."
And really, that's what Obama wants. The idea is that if Gadhafi falls, the next government will take control of the assets.
"We will safeguard the more than $33 billion that was frozen from the Gadhafi regime so that it's available to rebuild Libya," Obama said on Monday. "After all, the money doesn't belong to Gadhafi or to us - it belongs to the Libyan people. And we'll make sure they receive it."
Rep. Brad Sherman thinks otherwise, and wrote a letter to Obama on Wednesday urging him to fully exhaust the frozen funds before passing on costs to the taxpayer.
Before that could happen, the government would have to actually seize the assets - a process called vesting. And that's not likely to happen.
"That would take a law being passed that is not on the books now," Ferrari said.
And it wouldn't be a popular move.
"There would be a great deal of uproar from the international community," he added. "If we started doing that we would be hearing from a lot of people."