Jobs report: Your paycheck isn't going up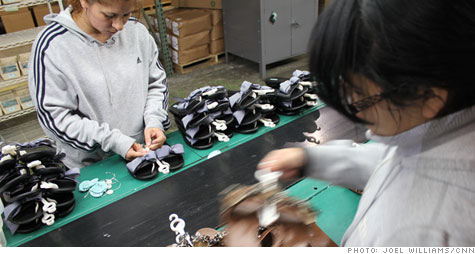 NEW YORK (CNNMoney) -- Prices may be rising at the grocery store and gas pump, but don't look to your paycheck for any relief.
Average wages and hours were both flat last month, according to Friday's government jobs report.
While the rest of the March jobs report was encouraging, showing the nation added 216,000 jobs during the month, stagnant wages are not a good sign for consumer purchasing power.
"Workers may not be losing their jobs, but they can't get a raise," said Peter Morici, University of Maryland economist and professor.
The average American worker earned $22.87 an hour in March -- the same rate as in February. Overall, average hourly earnings have gained only one cent, or 0.04% since January.
And for many jobs, wages actually fell in the last two months. The manufacturing sector, which accounts for roughly 9% of the American workforce, saw wages fall 0.8% since the beginning of the year.
And workers aren't picking up extra hours either. The average workweek was unchanged at 34.3 hours in March.
Meanwhile, inflation is taking hold -- particularly on staples like food and energy -- and cutting directly into the discretionary income of American households.
Why wages aren't rising
Companies have little incentive to raise wages, when the supply of available workers is still so plentiful. A staggering 13.5 million people are still unemployed and looking for work.
"Why don't businesses give raises? Because they don't have to," Morici said.
"There's such an excess supply of workers out there."
Especially for blue-collar jobs in manufacturing and construction, many companies are saving money by hiring laid off workers for less pay.
"Some workers are being hired back, but at a lower rate than they were paid before," said Scott Paul, executive director of the Alliance for American Manufacturing.
Meanwhile, the jobs recovery is still unevenly distributed among workers of different education levels. The unemployment rate for workers with bachelor's degrees is 4.4%, while high school graduates with no college, have a rate of 9.5%.
"It's still a story of the haves and the have-nots," said Stephen Bronars, senior economist with Welch Consulting. "The jobs recovery is stronger for people who have the skills employers are looking for. Those that have less than a college degree are going to face more competition out there."
Workers in professional and business services -- a category that is often thought to have more college educated employees than say, manufacturing, construction or mining -- have seen their wages rise 18 cents, to an average of $27.56 an hour, since January.