House GOP: $4 trillion in cuts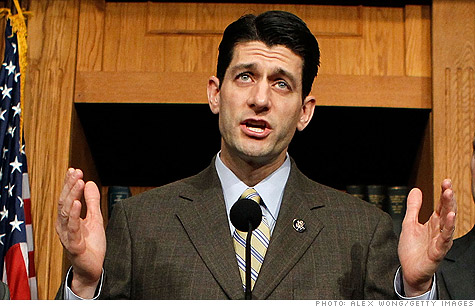 NEW YORK (CNNMoney) -- This week may -- just may -- mark the end of the often crazed debate about how much spending should be cut from the federal budget over the next six months.
But even if it doesn't, a far more difficult and contentious debate will begin over how much should be cut in the 2012 budget.
On Tuesday, House Budget Chairman Paul Ryan is expected to put out his 2012 proposed budget resolution.
His budget will give the first real indication of how House Republicans want to tackle the country's long-term budget shortfalls.
Budget resolutions, typically partisan documents, will lay out House Republicans' preferred levels of spending and revenue for 2012 and in the future.
Ryan told Fox News Sunday that his plan would cut more than $4 trillion, exceeding the targets set for the next decade by the president's bipartisan debt commission.
How would his plan do that? "By cutting spending, reforming entitlements and growing the economy," said Ryan, who was a member of the debt commission.
Taking on entitlements: Ryan said his budget resolution would propose overhauling Medicare, the health care program for seniors, and Medicaid, which provides health benefits to the poor and disabled. Spending on the entitlement programs is one of the biggest drivers of the country's future debt.
"By addressing the drivers of our debt now ... [we will get] our debt on a downward trajectory," Ryan said. And in the process, he asserted, "we save Medicare, save Medicaid."
Under his proposal, he said spending for each of the programs would still go up every year, just not at as fast a rate as would otherwise be the case.
Ryan is the only Republican who has offered concrete proposals in the past to reform Medicare and Medicaid.
He said the proposals in the resolution would be similar to those he proposed most recently with longtime budget expert Alice Rivlin, who served as President Clinton's budget director and founded the independent Congressional Budget Office.
The resolution would convert the federal government's Medicaid payments into a block grant to be allocated among states. Currently, federal payments to states are determined by a formula.
It would also convert Medicare into a voucher program -- what Ryan called a "premium-support system" -- for those turning 65 after 2020. Under such a system, seniors would choose from a Medicare-approved list of private insurance plans and have their premiums subsidized by the federal government. No one 55 or older now would be affected by the change, Ryan said.
It's not clear yet whether the resolution would include another Ryan-Rivlin proposal. Under their plan, they chose to gradually raise the age of Medicare eligibility to 67. Starting in 2021, the current eligibility age of 65 would start to increase by two months a year until it reaches 67 in 2032.
The House GOP budget is not expected to call for significant changes to the Social Security program, the reform of which remains a political hornet's nest.
Cutting spending: The GOP resolution would roll back so-called discretionary spending to 2006 levels, one House Republican source with knowledge of the proposal told CNN.
It's unclear how much that would slash, but it would be far more than the roughly $61 billion dollars in spending cuts House Republicans passed in February.
Ryan told Fox News that the GOP budget resolution would cap all spending as a percentage of the economy at levels equal to the historical average. He didn't offer a specific percentage, however.
Reforming the tax code: Ryan said the resolution would call for pro-growth tax reform that would lower tax rates and broaden the tax base -- which typically means eliminating tax breaks. He didn't say which breaks or specify whether he was talking about the individual tax code, the corporate tax code or both.
Sources familiar with the plan told CNN that Ryan's plan would make permanent the Bush-era tax cuts, which, under a compromise with President Obama, were extended last year through 2012.
The fight ahead
The House Budget Committee might vote on the GOP budget resolution as soon as Wednesday.
House Republicans are still divided over the magnitude of spending cuts for this fiscal year. And some lawmakers are pointing to the 2012 budget as the place where Republicans can offer the kinds of major spending cuts and reforms that the newest and most conservative members are miffed they are not getting in the 2011 fight.
In any case, it's a sure bet that Republicans will point to their budget resolution as a far more fiscally responsible document than President Obama's budget request put forth in February.
A budget resolution and a presidential budget request, however, are very different documents, and comparing them is not as telling as those doing the comparing will claim.
For one thing, the Congressional Budget Office has already offered an independent analysis of the costs and savings included in the president's budget, which is far more detailed than a budget resolution.
The CBO, however, will not be scoring the House budget resolution, so any costs or savings claimed by Republicans will only reflect the calculations of the House budget and tax committees.
What's not clear is when the Senate's budget committee chairman, Democrat Kent Conrad, will release his proposed budget resolution for 2012. Typically the House and Senate budget committees submit budgets and work out their differences to provide a single measure for the upcoming year.
But this year is hardly typical.
Conrad has said that he might use the budget resolution to incorporate a long-term debt reduction plan. He is part of the bipartisan Gang of Six senators who are trying to convert into legislation proposals from the president's debt commission. Like Ryan, Conrad and Rivlin were members of that commission.
How Conrad's budget resolution will jibe with what Ryan puts out is anyone's guess.
Unlike Conrad, Ryan didn't vote for that group's final report. He said he liked many of the report's proposals, but he objected to "the increase in taxes and the lack of structural reform to health care."
-- CNN senior congressional correspondent Dana Bash and congressional producer Deirdre Walsh contributed to this report.